by Nebula Haze
Always consider stealth when growing cannabis outdoors! Not only is law enforcement a consideration, it's common for thieves to steal plants right before harvest time!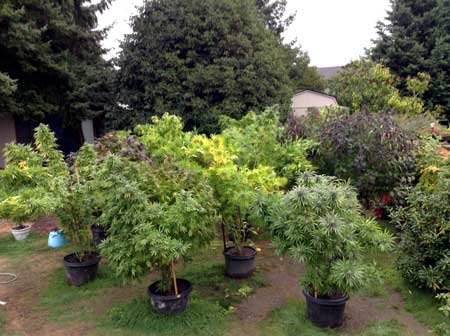 Outdoor growing has some incredible benefits, including the availability of free light. Light is like food for cannabis plants and in the flowering stage, the amount of bud produced is directly proportional to the amount of light received by the plant (especially at the bud sites). The plant is converting light energy into buds.
Sunlight provides free energy for growing cannabis plants. No need to spend money on electricity to power your grow lights!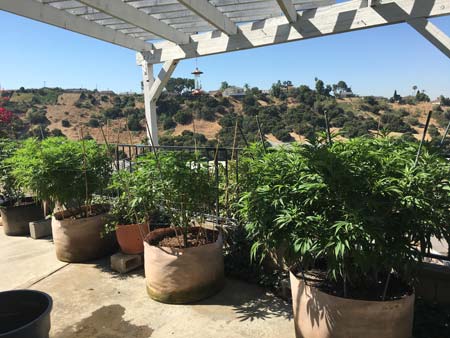 Indoor growers have to provide all their own light, typically by using specialized grow lights. However, grow lights produce heat and use a lot of electricity (how much electricity does it take to grow weed indoors?), and indoor grow rooms need a space that's easily hidden to visitors yet has easy access to water.
When it comes to outdoor growing, instead of setting up a grow room, your job is to pick the perfect place to grow weed. This is one of the most important things you can do not only for plant health, but also for stealth and security!
Not only is this extremely not stealthy, light from the window will likely prevent the plant from flowering (making buds). Light pollution is a common problem when growing outdoors on your own property. Plants need complete darkness at night to start making buds!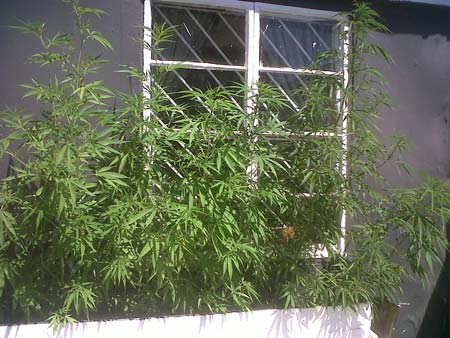 Outdoor Stealth – Growing on Your Property
Growing on your own property is much more convenient than hiking to a remote grow spot, but the stakes are much higher because if the plants are spotted it's easy to determine that you are the owner. Make sure to take every precaution!
Hide Plants from View 
Think about looking into your yard from outside the grow space. You want to go outside and make sure that plants are not visible from someone's window, from the street, a neighbor's yard, etc.
Camouflage your plants!
In addition to making sure no one can see your plants, it's still a good idea to try to camouflage them so that if someone is on your property for some reason, the plants don't obviously stick out.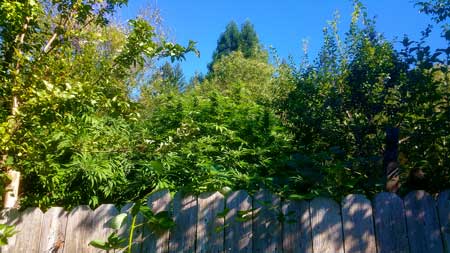 This grower actually cuts the tips off all the leaves of their plant in order to make them look less like typical leaves. This is pretty effort-intensive, but there's no doubt they look less like cannabis plants!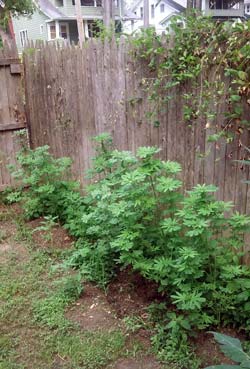 There are some interesting "stealth" strains that naturally don't look like typical cannabis plants, which can also help increase the illusion.
Learn more about "Ducksfoot" and other "Duck" and Stealth Strains.
This is a Frisian Duck plant in the vegetative stage. "Duck" or "Duckfoot" strains have 3-finger leaves which makes them look less like cannabis leaves. As a result, these strains can look like other types of plants at first glance.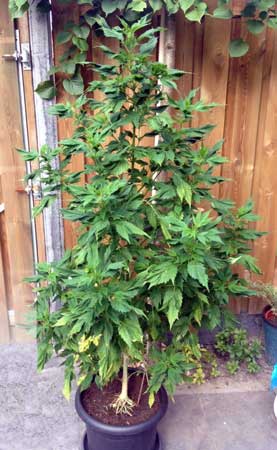 Plant bright flowers nearby, so it looks like the cannabis plant is producing the flowers.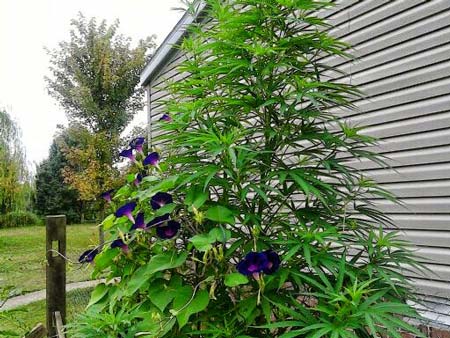 Consider planting your cannabis in a decorative planter or container that causes it to grow in non-typical growth patterns. Adding flowers to some of the empty pots would complete the illusion.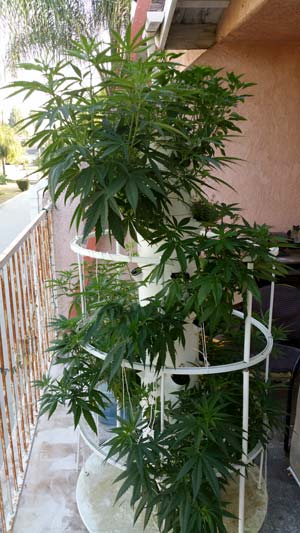 This marijuana plant has been placed in the middle of an area that naturally has lots of trees and other types of vegetation.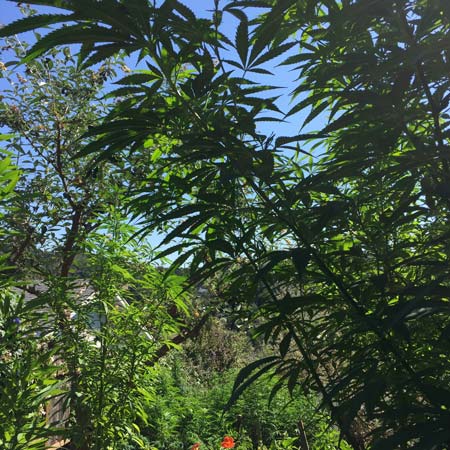 Even having a few plants nearby will make a big difference compared to growing the cannabis plant all by itself.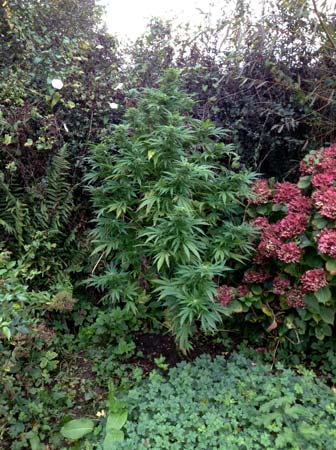 Some growers put plants in a greenhouse or other outdoor structure that lets light in but obscures the inside from view.
A greenhouse can not only help keep plants warm in cool climates, they help obscure the plants. Some greenhouses are built opposite this one, with opaque sides and a clear top so sunlight comes from above yet plants can't be seen from the sides.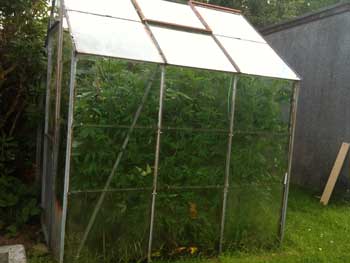 However, consider that a greenhouse might look suspicious if it's all by itself in the middle of the yard, especially if you don't typically do a lot of yard work or gardening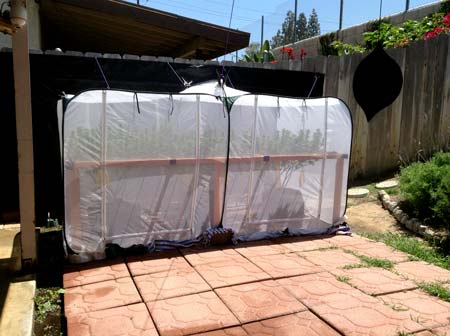 Keep plants shorter than your fence!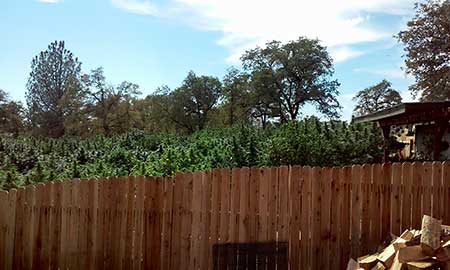 Change Natural Growth Patterns with Bending
Consider bending or otherwise altering the overall shape of the plant so it has less of a "Christmas Tree" shape, which is the most typical shape for cannabis plants grown naturally. This change of shape can cause the plant to look less like cannabis overall. You can also use bending to prevent plants from getting too tall.
Low stress training can be used to grow marijuana plants in any size or shape. This grower trained his outdoor cannabis plants to grow flat like hedges by training stems to grow along a ScrOG net.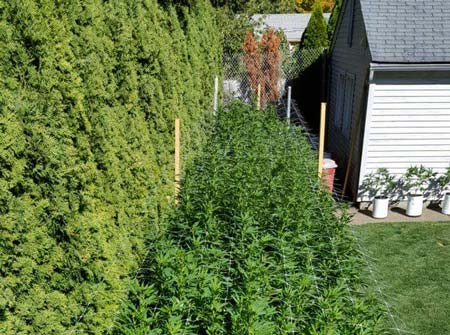 Watch Out for Anyone Taking Interest of Your Plants
Be aware of anyone looking over the fence or otherwise spending time hanging around your property.
Even if it's not someone who will report you to law enforcement, they may still be a problem. They might tell a friend who reports you. Or even worse they may be a thief. Nothing is more heartbreaking than growing plants all summer and then losing them to thievery…except jail.
Remember, even if a person doesn't take your plants right away, many experienced thieves who understand the life cycle of cannabis plants will wait until just before harvest before they steal your plants.
This plant does not have any buds to steal now, but thieves may take note of your plant and come back in the fall when they know it's getting close to harvest time. Stay vigilant!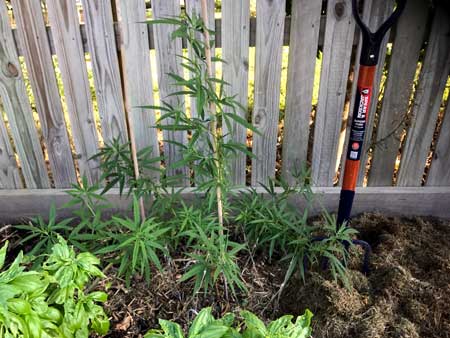 Smell
Consider that people might be able to smell your plants. Some plants smell a little "weedy" in the vegetative stage, but by the time your plant is flowering and getting close to harvest, the smell can be overwhelming, especially with certain "high-smell" strains.
Choose a low odor strain for outdoors that stays small if you're looking for something very stealthy. Auto-flowering strains can be a good choice because they're easy to grow, won't get very big, have a quick time-to-harvest and there are several stealthy looking and low-smell varieties that are suitable for growing outdoors. Auto Duck is an example of an auto-flowering strain that is great for outdoor stealth growing due to its smell (or lack thereof), growth patterns and quick time-to-harvest. Some examples of photoperiod strains that stay small and low-odor include Northern Lights, Papaya (smells tropical), Jock Horror, Ice (smells like jet fuel), and Blue Mystic. Smells are usually more intense when things get hot and humid.
Plant lots of other types of plants nearby, especially ones with bright and fragrant flowers. This will detract attention away from both the appearance and smell of a typical cannabis plant.
What if you can't grow on your own property, and need to grow in a more remote spot? A good outdoor grow spot has a few important factors….
Outdoor Stealth – Choosing a Safe Place to Grow Outside Your Property
Scope Out the Spot
Check out any possible grow spot at least 3 different times, and on both weekdays/weekends to make sure you never see hikers or other people in the area.
Far from a Visible Path
Stay far away from any path, and make sure not to leave tracks or marks when visiting plants – if you make a visible path, other people might follow it to see where it goes.
Test the Spot for Potential Visitors
I've heard a grower say to securely leave a twenty-dollar bill in a few places around the chosen area, where they can be easily seen by a human but won't blow away. If they are still there when you get back after a week or two, it's unlikely there are many people passing by because they would have picked up the money.
Camouflage Plants
Even if you're certain no one will be around except yourself, you should still try to camouflage your plants as best you can by using the tips given above.
Bonus: Outdoor Plant Health
These factors are important to making sure your outdoor plants grow as fast and healthy as possible. They don't necessarily contribute to stealth, but you must make sure to consider these factors if you want your outdoor marijuana grow to be successful! Since this article is all about picking the right spot for your cannabis plants, I thought it was important to also touch on this.
Easy to Visit 
You should be able to visit the spot at least once a week to tend to your plants.
Access to Water
Plants need to drink, but water is way too heavy to carry long distances. Therefore, you're looking for a spot with easy access to fresh, clean water. If there's no hose, you're looking for a brook or stream with moving water. Some growers collect rainwater near the grow site. Don't use water that looks or smells bad to you.
Lots of Sunlight
The spot gets 8+ hours of direct sunlight each day (the less direct the light, and the fewer hours a day, the smaller the plants and buds will be).
Gentle Breeze
A gentle breeze provides airflow and cooling, which helps prevent heat stress, mildew, bud rot and bugs compared to the plant living in stagnant air. You're looking for leaves that are rustling. There shouldn't be enough wind that plants are waving around.
Consider the Heat
If it gets very extremely hot where you live, you want to consider making sure there's a way to at least partially shade your plants on the hottest days. Learn how to care for heat-stressed outdoor marijuana plants.
Consider the Cold
Will your plants be ready to harvest before it starts getting cold and/or rainy where you live? High humidity, rain and temperatures under 60°F (15°C) are the leading causes of bud rot, which can take out an entire harvest in just a day or two! Frost and freezing temperatures will actually kill some plants (though some strains are more resistant than others). Make sure that you can protect your plants from cold or rainy conditions, or even better, make sure you get a strain that will be ready to harvest before your local bad weather begins!
Auto-flowering strains can be a good choice for growers with short summers because they are typically ready to harvest just 3 months from germination. However, there are also many 'standard" (non-auto-flowering) strains with short flowering periods that only need 3-4 months before they're ready to harvest.
Provide Your Own Soil
Even if the ground soil appears to be a good quality, you'll often get the best results by providing your own soil which has been formulated for a plant like cannabis. This will contain the right ratio of nutrients so plants grow fast and buds get as big as possible. Many growers put their plants in containers with soil, which makes it so plants can be easily moved around. Some growers will dig a hole in the ground and fill it with good soil, though raised beds often perform better because the plant will use the "good" soil for longer, and it can be easier to water the plants.
What kind of soil is good for growing cannabis?
Don't Forget Nutrients
Cannabis plants should have an adequate amount of nutrients. Although high-quality soil will typically provide everything your cannabis plant needs for nutrients during the vegetative stage, it's typically a good idea to provide the plants with extra plant food during the nutrient-intensive flowering/budding stage! Plants need a surprisingly high amount of nutrients to produce the biggest buds!
Learn everything you need to know about cannabis nutrients.
---
FAQs
What is a stealth grow box?
A stealth grow box allows you to surreptitiously grow your own plants at home. In this kind of system, a plant is enclosed within a box (hence the name) where light and nutrient-rich water is provided to the plants to give them everything they need to grow.
How do you stealth grow outdoors?
Plants need complete darkness at night to start making buds!
Outdoor Stealth ? Growing on Your Property.
Hide Plants from View.
Camouflage your plants!
Watch Out for Anyone Taking Interest of Your Plants.
Smell.
What if you can't grow on your own property, and need to grow in a more remote spot? …
Scope Out the Spot.
How do you make a homemade grow box?
Micro growing is usually done using soil, as setting up a soilless or hydro system in a space as small as a mini-fridge can be very difficult. So, to accommodate the lack of space that qualifies a micro grow, you'll want to use less soil to prevent your plants from outgrowing their small room or tent
Stealth Box – 4 Plant Grow Box
Stealth Box – 4 Plant Grow Box Stealth Box is a 4 plant, plug & play grow box that comes with everything you need for a full grow. The system produces 2-7 ounces of high quality, organic, cannabis every grow cycle and is carbon filtered to neutralize odours. Stealth Box's organic system means you don't need to handle or understand dozens of different nutrients – aside from a single flowering nutrient, you will just add water! With a system this simple, we know that anyone can become a successful grower. Stealth Box will grow you 2-7 oz of organic cannabis each grow cycle – guaranteed!*Start growing the easy way! first round is on the house! Stealth Box is pleased to announce we have partnered with Crop King Seeds to bring you premium cannabis seeds – for FREE! no experience? No problem!We have a variety of comprehensive resources to help the novice grower get started. We'll get you growing 2-7 oz per grow cycle – guaranteed!* Check out what's available, below! GROWMASTER SUPPORTStealth Box includes a made-for-purpose, step-by-step grow manual. The manual contains everything you need to know to grow cannabis, even if you've never done it before. Visit our Growmaster Blog for more facts and tips on using your Stealth Box! Stealth box faqGrowing cannabis can be intimidating – but we've taken out the guesswork. How many plants can I grow? How long will a grow cycle take? Does the box smell? These questions and more answered in our comprehensive Stealth Box FAQ, below! Got Questions?Ask a greenthumb! Ask one of our Growmasters any questions that you might have about growing with Stealth Box. Get the information you need before making the decision to purchase! Just use the chat in the bottom left hand side of the site to get a response within 24 hrs., Monday to Friday. check out stealth box in action! Our Grow Journeys are in-depth photo journals documenting Stealth Box grows. Check out Stealth Box doing what it does best below! try it risk-free with the stealth box guarantee!** **We are so confident that anyone can grow with Stealth Box, we are now offering a full money-back guarantee! If you grow under 2 oz on your first grow and you were in contact and working with the Growmaster for support, we are happy to offer you a full refund!Most first time growers grow 3-7 oz. Stealth Box on Instagram  Based in beautiful British Columbia.
Outdoor stealth growing cannabis guide – Dutch Passion
Stealth Cannabis Growing Outdoors How-To Guide | Dutch Passion Growing cannabis outdoors has many key benefits. It's the most cost effective way to grow cannabis – with no grow room to buy or run. All you need is pack of outdoor cannabis seeds to go with your free light source! Many guerrilla growers also claim that sun-ripened buds have an extra kick and a superior terpene profile compared to indoor-grown buds. But one of the key challenges for outdoor growers is to ensure a safe, secure outdoor grow location which will be safe from thieves and discovery. This review is packed with grow tips for growers determined to bring home an outdoor crop even if it's your first outdoor grow! How to hide your outdoor cannabis grow You may not have to worry about the expense of buying and running a grow room, but you will need to plan your outdoor grow carefully to maximise your chances of success. You may be lucky enough to have your own land (or that of a friend) to grow on. But many prefer the thrill of preparing a secret, hidden grow location in the countryside. Your two main choices are to grow either autoflower seeds or photoperiod feminised cannabis seeds. Each has their own pros and cons, but whichever strains you grow you will need to ensure that the plants are not seen (or smelled!). Choice of grow location is critical, but choice of strain can also play a role. Some strains remain naturally short and bushy and easy to hide among the undergrowth and other plants/flowers. Strains such as Frisian Duck and Auto Duck have a stabilised natural leaf deformity meaning that people may walk straight past your plants and not even recognise them as cannabis. Related:Frisian Duck grown outdoors in The Netherlands 1. Pick a grow spot away from prying eyes and noses Choosing a private, secret grow location is one of your first challenges. Many outdoor, or 'guerrilla' growers prefer to have several outdoor grow locations. This spreads the risk should one location be discovered by dog walkers, do-gooders, rippers or the Police. Online mapping apps like Google Earth/Apple Maps are very useful for anyone looking for off-the-beaten-track locations, but boots on the ground can't be beaten. You may prefer to use online maps to give you general locations to consider such as unused land, hills, river banks, countryside etc. A subsequent walking visit to the area is the best way to judge the viability of the location. If you are growing autoflowers, your plants may only be around a metre tall and relatively easy to hide behind brambles, bushes and nettles. You may even wish to plant some extra vegetation (e.g. thorny brambles) to offer greater security and deter accidental discovery of your plants. If growing feminised cannabis seeds you will need to hide your plants for a longer timer period and may need taller surrounding vegetation to conceal your plants. There is little you can do about the cannabis aroma which will be produced by your plants other than hope that a thick border around your grow location will allow the smell to be naturally diluted by the breeze. Avoid leaving a trail to your grow, eventually someone will follow it and it could compromise your plot. Take different approaches if possible, or use a route that doesn't leave an obvious clearing through the undergrowth. Many of the most successful outdoor cannabis grow locations have a crawl-tunnel (or similar) entrance to make accidental discovery unlikely. Over a few years you can enhance the security of the perimeter of your grow location by progressively planting more nettles, thorns etc around the perimeter to block views as well as access. 2. Avoid spreading the word about your outdoor grow One of the golden rules about outdoor cannabis growing is to avoid…
Best Stealth Cannabis Strains to Grow – Maximum Yield
The Top 8 Cannabis Strains for Stealth Growing In an ideal world, growing cannabis would not be a crime. Despite the strides that cannabis legalization has achieved to destigmatize the plant, there are still many places where growing your own weed is taboo. If discretion is a concern when you grow cannabis, autoflower strains are your best bet. Alternatively, great options also include plants with low odor that grow short and fast. Here are a few top picks. Dwarf Low FlyerIf you are looking for a quick, trouble-free grow with small plant height, you've just found it. Many have referred to Dwarf Low Flyer as a bonsai-like autoflower. The plant grows just under 2 feet but brings in high yields at harvest in just six weeks. This specialty strain, which delivers a sweet and smooth buzz, is perfect for growing in inconspicuously small spaces.Northern LightsNorthern Lights needs little introduction. Smokers around the world are captivated by its potent Indica effects and incredible flavor profile. Not only is it one of the most famous and well-loved strains; it is also one of the best options to grow stealthily. It emits very little odor; your nosy neighbor would never be able to smell it. This plant also won't take up too much space, reaching a height of about 4 feet. Purple KushPurple Kush makes for a colorful and stubby addition to your garden. Its purple leaves, bright orange pistils and thin white hairs are a sight to behold. With a height of just 2.5 feet and a compact stature, growing stealthily is possible. This heavy-hitting Indica also happens to be one of the 10 most powerful strains in the world.Bubba KushMention "Bubba Kush" and you are sure to hear a number of interesting stories about its prestigious lineage. It is believed that the original strain is a cross between OG Kush and Northern Lights. Bubba Kush is an old-school Indica with a solid sedative high that leaves users relaxed yet still functional. The plant is bushy and produces thick, sticky buds that are said to be almost as sticky as bubble gum. Growing it in a small space indoors would not be a challenge.Read also: The 10 Coolest Names for Cannabis StrainsThe Rare Cut: 8 of the Rarest Cannabis StrainsPolitical Pot: Weed Strains Suited for World LeadersSweet ToothAcclaimed for its unique kind of high and sweet floral aroma and flavor, smoking Sweet Tooth is a delightful way to get high. The Indica plant grows compact and is fast flowering. When grown indoors, the plant does not grow any bigger than 3.5 feet in height. It gives off the sweet smell of berries while growing. This strain should be on your list if you want a potent plant with good yield and great smoke that is also easy to grow.MotavationYes, you're reading it right. This strain's name is Motavation and in no way will it leave you feeling motivated. It almost always locks smokers to the couch in a blissful, relaxed state. With a height of 2.5 feet, growing it in limited spaces such as tents and cupboards isn't a problem. The plant also grows sturdily regardless of the growing methods applied to…
Ten Best Strains for Stealth Growing | Seed Supreme
Ten Best Strains for Stealth Growing | Seed SupremeIn a perfect world, cultivating marijuana would be socially acceptable and decriminalized. Unfortunately, we're not living in one.  Whether you're concerned about the legal implications of growing weed or about your neighbors, family, and friends finding out, stealth growth is an option you should consider. Despite how far we've come with the legalization of weed, there are still many regions where growing cannabis is a criminal offense. It's this issue that led to cultivators worldwide developing methods to raise their cannabis crops in secret. Even if growing weed is legal in your area, discretion may still be a concern. Many people still frown upon the herb due to the unwarranted stigma associated with the plant.  Most growers merely want to avoid arousing suspicion or nosey neighbors asking unwanted questions.For other people, keeping their weed crop a secret is part of the fun of growing their own "devils lettuce." For these reasons, stealth or guerilla growing and low odor cannabis strains have risen in popularity. If you value your privacy and prefer discretion, check out our list of the ten best strains to grow in stealth mode. What do the terms stealth and guerilla cannabis mean? Guerilla cannabis defined The term "guerilla cannabis" refers to low-maintenance outdoor weed seeds. By definition, a guerilla grow must be sturdy enough to thrive in nature for prolonged periods without any human intervention. The ideal outdoor guerilla grow strains requires little more than the cultivator preparing a sheltered, sunny location. All the grower has to do is make sure the soil is nutritious, moist, and free from prying eyes and grazing animals. The top outdoor guerilla strains grow naturally from seeds to adult weed plants and will be ready for harvest with no human interaction. It's ideal for discretion, particularly if you're raising your crop in the hills, mountains, countryside, or anywhere else you would seldom visit. Stealth cannabis defined Stealth cannabis refers to weed that growers can raise discreetly.  Examples include: Low odor strains Short varieties Plants with an unrecognizable leaf shape One excellent representation is the Frisian Duck strain. This marijuana variety's leaves don't have the iconic cannabis shape. Instead, their blades are webbed (or joined) together, making them look similar to a duck's footprint. The best weed varieties for stealth growing outdoors are usually robust and resilient to harsh weather conditions. In general, they don't require any supervision, nutrients (nutes), or special maintenance.  For many growers, dwarf marijuana plants (short/squat varieties) are ideal as their size makes them convenient to hide. The top strains for stealth growing can cope with prolonged periods of unsupervised development and still deliver the highest-quality buds when harvest time comes.  Ten best strains for stealth growing 1 – Bubba Kush There are many interesting stories related to the lineage of Bubba Kush. Breeders often dispute the exact origins of this variety, but most believe that it came from crossing the Northern Lights and Og Kush strains. As with most old-school indicas, Bubba Kush produces a solid sedative high that'll leave you feeling relaxed but still functional. The seeds develop into a bushy plant, which grows thick, sticky buds, often said to be as adhesive as bubble gum. Growing this strain indoors in a small, confined space, such as a stealth grow tent, should be a breeze, even for beginners. 2 – Durban Poison Durban Poison is an exceptionally potent 100% sativa strain. This reasonably subtle plant's buds are frequently used by stoners for a sudden burst of energy, aiding them in productivity. In contrast to its reputation for being an upbeat weed variety, Durban Poison finds itself amongst the best smelling strains. Plants of this variety don't produce a strong odor, and buds smell sweet when adequately cured.  The strain is relatively easy to grow, and growers, from beginners to experts, should have no problem cultivating it stealthily. 3 – Buddha Seeds' Red Dwarf These dwarf marijuana plants, Buddha Seeds' Red Dwarf, result from a crossing between the White Dwarf and a strong Skunk strain. Breeders back-crossed the offspring to regain the autoflowering attribute. The Red Dwarf is…
Stealth Ideas for Growing Weed Outdoors
Stealth Ideas for Growing Weed Outdoors | Grow Weed Easyby Nebula HazeAlways consider stealth when growing cannabis outdoors! Not only is law enforcement a consideration, it's common for thieves to steal plants right before harvest time! Outdoor growing has some incredible benefits, including the availability of free light. Light is like food for cannabis plants and in the flowering stage, the amount of bud produced is directly proportional to the amount of light received by the plant (especially at the bud sites). The plant is converting light energy into buds.Sunlight provides free energy for growing cannabis plants. No need to spend money on electricity to power your grow lights!Indoor growers have to provide all their own light, typically by using specialized grow lights. However, grow lights produce heat and use a lot of electricity (how much electricity does it take to grow weed indoors?), and indoor grow rooms need a space that's easily hidden to visitors yet has easy access to water.When it comes to outdoor growing, instead of setting up a grow room, your job is to pick the perfect place to grow weed. This is one of the most important things you can do not only for plant health, but also for stealth and security!Not only is this extremely not stealthy, light from the window will likely prevent the plant from flowering (making buds). Light pollution is a common problem when growing outdoors on your own property. Plants need complete darkness at night to start making buds!Outdoor Stealth – Growing on Your PropertyGrowing on your own property is much more convenient than hiking to a remote grow spot, but the stakes are much higher because if the plants are spotted it's easy to determine that you are the owner. Make sure to take every precaution!Hide Plants from View Think about looking into your yard from outside the grow space. You want to go outside and make sure that plants are not visible from someone's window, from the street, a neighbor's yard, etc.Camouflage your plants! In addition to making sure no one can see your plants, it's still a good idea to try to camouflage them so that if someone is on your property for some reason, the plants don't obviously stick out.This grower actually cuts the tips off all the leaves of their plant in order to make them look less like typical leaves. This is pretty effort-intensive, but there's no doubt they look less like cannabis plants!There are some interesting "stealth" strains that naturally don't look like typical cannabis plants, which can also help increase the illusion.Learn more about "Ducksfoot" and other "Duck" and Stealth Strains.This is a Frisian Duck plant in the vegetative stage. "Duck" or "Duckfoot" strains have 3-finger leaves which makes them look less like cannabis leaves. As a result, these strains can look like other types of plants at first glance.Plant bright flowers nearby, so it looks like the cannabis plant is producing the flowers.Consider planting your cannabis in a decorative planter or container that causes it to grow in non-typical growth patterns. Adding flowers to some of the empty pots would complete the illusion.This marijuana plant has been placed in the middle of an area that naturally has lots of trees and other types of vegetation.Even having a few plants nearby will make a big difference compared to growing the cannabis plant all by itself.Some growers put plants in a greenhouse or other outdoor structure that lets light in but obscures the inside from view.A greenhouse can not only help keep plants warm in cool climates, they help obscure the plants. Some greenhouses are built opposite this one, with opaque sides and a clear top so sunlight comes from above yet plants can't be seen from the sides.However, consider that a greenhouse might look suspicious if it's all by itself in the middle of the yard, especially if you don't typically do a lot of yard work or gardeningKeep…
Best Stealth Marijuana Seeds
Best Stealth Marijuana Seeds Best Stealth Marijuana Seeds Marijuana is slowly gaining recognition for both its medical value and its popularity for recreational use. Many state governments are slowly acknowledging the benefits of these amazing plants and legalizing their use to varying degrees. BUT… even in this changing world, there are still many reasons to grow discreetly. Perhaps you are growing for your own use medicinally, perhaps with a prescription, but you don't want to create problems with your neighbors, roommates or family who may not share your views on marijuana. Or maybe you are starting a guerilla grow out in the woods and need to keep your crop concealed. Best Stealth Marijuana Seed Strains Lowryder Seeds – Lowryder 2 Autoflowering Feminized Northern Lights #5 Feminized Seeds Lowlife – Automatic Hindu Kush Seeds Original Sensible – Auto Black JH AutoFlowering Feminized Seeds Lowlife – Automatic Great White Shark Seeds Yumboldt (Yumbolt 47) Marijuana Seeds C99 Bx1 Marijuana Seeds Bomb – Hash Bomb Seeds Delicious – Fruity Chronic Juice Seeds Sensi Seeds- Guerrilla's Gusto There are many reasons to focus on stealthy cannabis growing. Taking some simple precautions can help your garden stay safe and hidden, as can choosing the proper seed strains. Genetics count when it comes to stealth. Choose strains that are known for the qualities you want – maybe that means low odor, small size or a strain that grows easily with little training or feeding. We have chosen some of our favorite strains for stealth growing to help you get started. Before we share our top seeds with you, let's consider some basics of setting up a stealth grow. Regardless of where you are growing there are a few things you must do if you want to keep your plants a secret. 1) First and foremost, DO NOT TELL ANYONE. This is the single most important thing you can do to keep your garden hidden. Do not tell anyone what you are doing. Not even your best friend. Really. Even the most well-meaning buddy may let your secret slip one Friday night out on the town. If stealth is important to you, keep your secret to yourself. If stealth is key to your operation, you should seriously consider keeping your product to yourself as well. Growers who sell weed are much more likely to be caught than those who grow for personal use only. In a similar vein, grow only what you will use. It is much easier to conceal one or two plants than fifty. 2) Eliminate odors Who doesn't love the scent of a nice skunky bud? Scent is often a precursor to taste and a promise of a potent smoke, but in a stealth grow it is an advertisement that you do not need. Indoors odors can be controlled using filters and gels, while outdoors carefully choosing your location and growing low odor strains will minimize the likelihood of attracting curious passersby. It is also important to eliminate the odor of marijuana from yourself. When you are surrounded by a smell you eventually get used to it and do not smell it anymore. Yet when you are done caring for your plants, the scent of your buds may be clinging to your clothing, skin or hair. Be sure…
How To Build A Small Space Cannabis Stealth Grow
How To Build A Small Space Cannabis Stealth Grow | 🥇 Paradise Seeds | 🥇 Paradise Seeds At Paradise Seeds we naturally have a lot of conversations with novice growers who are thinking of starting their first grow. One of the frequently voiced doubts that people have is whether they have enough space to place – and perhaps more significantly hide – a grow tent. So this month we are going to take a look at how to set up a small space cannabis stealth grow. There's an old German proverb that says 'fear makes the wolf look bigger', and this is a state of mind that many novice growers find themselves occupying before they take that leap into cannabis growing! You know the feeling – it's the one that strikes worst late at night when the mind races as it imagines everything that can go wrong. With the 'cannabis fear' this usually involves a SWAT team landing on your roof and being marched out of the house handcuffed in your underpants while the whole neighbourhood watches…! So to overcome this fear, why not start a small space cannabis stealth grow?! This is the perfect way for a novice to ease their way into growing and will keep that fear in its box! Done right, this method can also deliver a surprisingly healthy yield per space ratio too. The thing about growing small is that it takes a different mindset to the traditional cannabis grow and, depending on the size of the grow space, bespoke equipment. What are the Advantages of the Small Space Cannabis Grow Space is the obvious answer. Unless you can hide it away in an attic, even a small grow tent with 1m x 1m x 2m dimensions looks huge once you unpack it and place it in a small spare bedroom! However an equally significant advantage is the 'stealth' element. Whether it's a small apartment, a room in a shared house or starting a set up in the family home, sometimes living space circumstances call for a more imaginative approach to growing cannabis. What is the Best way to Grow Cannabis in Small Spaces? The main problem that growers have with such limited grow space is the natural tendency of a cannabis plant to reach for the light. Consequently, this type of grow needs to keep a sense of perspective and requires constant management. Focusing on one or two plants and managing it/them well is the best way to achieve great results. One consistent bit of advice from tiny space cannabis growers is to 'pre-empt' the plant's next move at every stage of growth. This means overriding the natural impulse to let plants grow a little taller before putting them into flower. It also means being quite brutal with training during the veg stage – removing big shade leaves that are preventing the light from getting to bud sites and selecting branches to focus on growing, while removing those smaller insignificant branches (another top tip – you can always be more brutal with topping and training than you think!). Many growers working with small spaces will use training techniques such as LST and Scrogging to maximise their coverage of a limited surface area. What Equipment Do You Need to Grow in Small Spaces? Growing in a small space requires the use of LED lights. Unlike HPS they will not produce the kind of heat that will a) burn your plants and b) risk burning down your house! One of the great grow developments of the industry, LEDs provide growing options that were unthinkable a few years ago. Due to their versatility they come in all shapes and sizes and are perfect for a small space cannabis stealth grow. The cannabis hardware industry keeps on innovating and there are a number of custom small grow products out there. A mini grow tent is probably the cheapest option (a common size is approximately 60cm x 60cm x 120cm), however with limited DIY skills there are options to build a stealthy small space grow room using every day furniture lying around your house – even a simple waste…