Need to know the best places to buy seeds online?
Before this past year, I'd buy all my seeds at Lowes or Home Depot and plan my garden based on what was available in their selection. Then, I'd go home, throw all the seeds in my containers and galvanized water troughs without rhyme or reason and hope that something would work out — not considering thinning, or timing, or anything relevant to optimal growth.
Turns out, that's not the best system! (Shocking, I know!) To be fair, I mostly did it with all of my flowers, since I purchased most vegetable seedlings from the store. 
But this year … this year is going to be totally different! I've become a sponge for gardening information. I joined my local gardening Facebook group, started following hundreds of gardeners on Instagram and YouTube, and sometimes I stay up until 3am obsessively reading all about the ins and outs of caring for my crops. I even got this cool seed holder (pictured below)! This is the first article in my series to share all that I've learned and that I'm still learning. 
I'm starting with seeds because that's where I currently am in the process. I had thought my only options for seeds were at the big home improvement stores (which are totally fine, by the way!), but it turns out there's a vast world out there of options and varieties. Here are my best places to buy seeds online so far:
 
Botanical Interests
I first discovered Botanical Interests at my local Sprouts grocery store and at the nearby nursery. Both places had a really wide section of these beautifully packaged seeds with the cutest illustrations. Now, most of my seed collection comes from this company's website, and I appreciate that they are accessible and affordable. Most packages that contain hundreds of seeds are priced at about the $2 mark, and I can use them for years to come. This year, I'm even using some of their biodegradable planters for my seedlings (which I'll write more about later). Here's their website.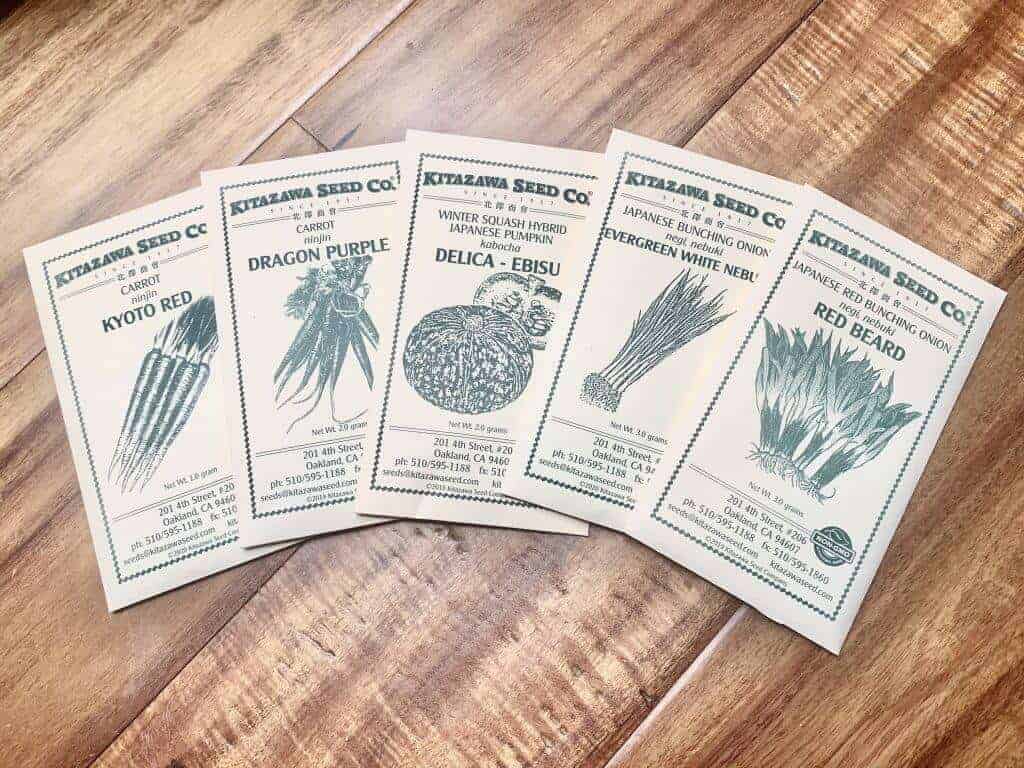 Kitazawa Seed Company
They say that gardening skips a generation, and that's true in my family. My grandpa, Yoshio Okamoto, whose American name was Paul, was an avid gardener. He had grown up in Walnut Grove, CA near lots of farmland, owned his home in old Elk Grove, CA (after his interment) with lots of acreage to grow food, and then helped raise me alongside him in the garden. Allowing me to ride on his tractor and harvest his produce. My grandpa is a big reason I have a very special place in my heart for Kitazawa Seed Company.
In the early 1910s, 20s, and 30s, Kitazawa Seed Company had built a thriving business selling bulk seeds and specializing in Japanese varieties. Then, very unfortunately, in the early to mid 1940s their business was shut down while the owner was forced into a Japanese internment camp. Afterward, upon their reopening, they shifted to a model of business of shipping seeds, since many of their customers had relocated because of the Japanese displacement. Fast forward a few decades, they celebrated their centennial in 2017, and are the oldest company in the US specializing in Asian varieties. I'm proud of their success and love supporting them. Here's their website.

Baker Creek Heirloom Seeds
If you follow a lot of gardening Instagramming accounts, you'll find that people LOVE this company! Baker Creek has rare seeds that bring fun and uniqueness to your garden. For example, this year, I bought purple beans, kale that looks like a palm tree, multi-colored hot peppers, and some beautiful amaranth (all pictured above). 
They also have a gorgeous full-color catalog that you can request to be sent to your home (p. It has a ton of information about the plants, beautiful photography, and it's how I'm always persuaded to go above my budget (that and the fact they have free shipping). You can see my tabbed and loved 2021 copy below. Here's their website.
Seed Savers Exchange

 
This is a nonprofit from which I have learned a lot. I had no idea that there were varieties of produce that were becoming extinct as our diets became less diverse. From their website, their mission is "Seed Savers Exchange stewards America's culturally diverse and endangered garden and food crop legacy for present and future generations. We educate and connect people through collecting, regenerating, and sharing heirloom seeds, plants, and stories." 
When you purchase from them, make sure you don't make the same mistake as me! Sign up for their enewsletter BEFORE you buy because they'll send you a coupon code. Here's their website.
Johnny's Seeds
I found out about Johnny's Seeds because they have a lot of really useful garden planning resources. Before I placed an order, I had watched their instructional videos, used their planning excel spreadsheet, and more. If a company provides so many free resources to help me along my journey, I feel compelled to support them back. Here's their website.
Hope you found this article to be helpful for finding the best places to buy seeds online!
I'll continue updating it as I learn more and gain more experience. In the meantime, you can check out some of the recipes I created from my garden last year.
FAQs
What is the best website to order seeds from?
The 9 Best Places to Buy Seeds of 2022
The Home Depot. "This retailer offers the convenience of shipping or ordering online and picking up at the store and offers a variety of seeds from multiple brands."
American Meadows. …
Terrain. …
Burpee. …
Seeds Of Change. …
Eden Brothers. …
Seed Savers Exchange. …
Baker Creek Heirloom Seeds.
Can I buy seeds on Amazon?
Amazon has a new rule in place governing seed and plant imports for U.S. customers: Nope. The online retail giant confirmed in a Saturday report from the Wall Street Journal that U.S. customers are no longer allowed to import foreign seeds or plants
What is the best seeds brand?
List of top seed companies:
Monsanto(US)
Corteva Agriscience (DowDupont) (US)
Syngenta (ChemChina) (China)
Limagrain (France)
Bayer(Germany)
KWS(Germany)
Sakata seed (Japan)
DLF(Denmark)
Oct 5, 2018
What is the best vegetable seed company?
These Are the 8 Best Places to Order Seeds Online
Baker Creek Heirloom Seeds. Baker Creek Heirloom Seeds. …
Seed Savers Exchange. Seed Savers Exchange. …
Park Seed. Park Seed. …
Peaceful Valley Farm & Garden Supply. Peaceful Valley Farm. …
Territorial Seed Company. …
Kitazawa Seed Company. …
Botanical Interests. …
Adaptive Seeds.
Burpee Seeds and Plants – Home Garden, Vegetable Seeds …
Burpee Seeds and Plants – Home Garden, Vegetable Seeds, Annual Flowers – Burpee ShopSow, Grow, Harvest! Swiss Chard, Fordhook Giant HEIRLOOM. Dark green, thick, tender leaves. Heavy yield even in hot weather. $3.95 – $4.95 As low as $4.95 Seeds Kale, Dazzling Blue If you are a fan of dinosaur kale, this is the one for you. $4.95 – $9.95 As low as $4.95 Bulb & Plant & Seeds Spinach, Space Hybrid Smooth Leaved Three Season Spinach Vigorous, fine tasting salad and boiling spinach Seeds Burpee Tips Gardens Love BurpeeLet's grow together. Tag #MyBurpeeGarden to share your gardening inspiration with [email protected], peppers, [email protected], peppers, [email protected], peppers, [email protected], peppers, [email protected], peppers, [email protected], peppers, squash
Seeds for Sale – Buy Garden Seeds | Park Seed®
Seeds for Sale – Buy Garden Seeds Superior Seed Quality Park Seed is proud to offer a wide selection of 100% non-GMO seeds that are guaranteed to germinate or we'll replace them Reliable Garden Expertise Trusted for over 150 years, our horticulturists are your gardening experts, ready to provide guidance on planning, sowing, and regular maintenance Our Customer Commitment Seeds and accessories ship within 3-5 business days and our live plants will arrive at the ideal planting time for your zone Online seed nursery for America's backyard gardeners Shop more than 1,100 varieties of tested and proven flower, herb, and vegetable seeds, plus an extensive selection of fruits, bulbs, live plants, and gardening supplies easily from our online mail order garden center and nursery. Park Seed's seeds are guaranteed to germinate and include organic, heirloom, Whopper, and gourmet seed varieties that are always non-GMO. Mail order gardening makes it easy to shop, select, purchase, and receive your seed order direct to your door. Seeds ship within days of order receipt and live plants, bulbs, and roots ship at the ideal time for planting in your growing Zone. Since 1868, Park Seed has supported American gardeners and we'll do the same for you. Top Sellers Garden Learning Center We've learned a lot about backyard gardening and small-scale farming in 150 years. Have a question about seed sprouting, garden planting, crop hardiness, fruit trees, companion and succession planting? Check these resources for solutions. #ParkSeedCo Where gardeners share real life gardening stories. Join our gardening and small scale farming community on Instagram. Customer Favorites
9 of the Best Places to Buy Seeds Online for Your Garden
9 of the Best Places to Buy Seeds Online for Your Garden As this year's seed catalogs start landing in my mailbox and inbox, I'm making a list of old favorites and new varieties I want to grow this year. There are classics I always plant, such as 'Better Boy' tomato and 'Black Beauty' eggplant, which I know will be available at my local garden center in the spring. But for those more unusual, harder-to-find varieties of veggies and flowers, the Internet is the way to go. The best places to buy seeds online depends on the types of plants you're looking for. These top choices each offer plenty of high-quality options for veggies, herbs, flowers, and more. Kindra Clineff 1. Best Flower Seeds: Renee's Garden Renee Shepherd, founder of Renee's Garden, trials and chooses all the flower seed varieties her company sells. Along with open-pollinated and heirloom varieties from around the world, Renee's Garden also offers exclusive varieties like 'Summer Peaches' alyssum and mixes like Spinning Wheels marigolds. You can shop exciting vegetable and herb varieties, too. And each seed packet is a miniature work of watercolor art with personally-written descriptions and growing instructions. You'll be tempted to save them for crafts, garden journals, or scrapbooks. 2. Best Vegetable Seeds: Johnny's Selected Seeds Every year, the gardeners at Johnny's Selected Seeds plant thousands of vegetable varieties to find the best for their customers. Browse their site for organic and heirloom veggie seeds, exclusive varieties, award-winners, and seeds for hydroponic and greenhouse growing. Some smaller seeds, including lettuce, carrots, and onions, are available in pellet form. This makes them easier to see and handle, whether you're sowing by hand or using a mechanical seeder. Pro tip: Order only as much as you can use in a growing season; pelleted seeds often have a shorter shelf life. 3. Best Heirloom Seeds: Seed Savers Exchange Seed Savers Exchange helped launch the heirloom seed movement in 1975. Now, this non-profit based in Decorah, Iowa, maintains a seed bank of over 25,000 rare and heirloom varieties. While some heirloom seeds are now produced on a commercial scale and widely available, other varieties are still found only in backyard gardens. Join the Exchange, and you can share or request homegrown flower, vegetable, and herb seeds from other members across the U.S. 4. Best New Varieties: Park Seed Almost all seed companies offer new varieties each year, so it's hard to pick just one. I like Park Seed, which has added over 140 new choices to its 2022 lineup. You'll also find unique seeds exclusive to Park, along with growing supplies, tools, and bulbs. This company occasionally runs sales and offers discounts, so check the website often for a good deal or sign up for its newsletter (you'll get a discount when you do). 5. Best Non-GMO Seeds: Botanical Interests Focused on organic gardening practices, Botanical Interests was among the first to sign the Safe Seed Pledge, which promises the company won't "knowingly buy, sell, or trade genetically-engineered seeds or plants." Many of its herb, flower, and vegetable varieties are heirlooms; some are new or exclusive, and the seed packets don't contain fillers. Colorful seed packets tell you when to harvest and include recipes, landscape ideas, gardening…
Plant World Seeds: Buy Flower Seeds and Vegetable Seeds …
Buy Flower Seeds and Vegetable Seeds Online We sell over 3500 varieties of flower and vegetable seed – many of which are rare, unusual and exotic. We ship globally for a cheap shipping charge. (Excluding the EU/EEA and other select countries) With over 35 years experience and a complete satisfaction guarantee you can buy confidently from us. We sell this year's home-grown, fresh seeds, supplying the pick of our UK grown crop. We sell a large range of heritage and heirloom vegetables, including varieties of tomatoes, lettuce, beetroot, radish, melon and more.
The 9 Best Places to Buy Seeds of 2022 – The Spruce
The 9 Best Places to Buy Seeds of 2022 One-stop shops for growing flowers, herbs, and more We independently research, test, review, and recommend the best products—learn more about our process. If you buy something through our links, we may earn a commission. The Spruce / Chloe Jeong Our Top Picks The Home Depot "This retailer offers the convenience of shipping or ordering online and picking up at the store and offers a variety of seeds from multiple brands." American Meadows "At this site, you can search by region, benefit, and growing condition for flower seeds that are good for the local ecosystem." Terrain "Sold in kits and collections, their seed products are a great way to start your garden or to give as gifts." Burpee "A staple in the seed market since 1881, this company offers a wide variety of seeds along with detailed growing information." Seeds Of Change "This company offers vegetable, herb, and flower seeds in packs or collections, with each purchase helping to support school gardening programs." Eden Brothers "With the largest variety of seeds in the United States, this company allows you to sort seeds and bulbs by color, planting season, and more." Seed Savers Exchange "Here you can order or exchange seeds, including heirloom varieties of vegetables, flowers, and herbs." Baker Creek Heirloom Seeds "This company focuses on preserving heirloom varieties and does not sell genetically modified seeds." Johnny's Selected Seeds "With a great variety of seeds, this site offers detailed growing information as well as growers profiles to provide more insight." Growing a plant from a seed is one of the most gratifying (and cheapest) ways to create a home garden. Whether you are a garden newbie or an experienced farmer, planting seeds is still as simple as digging a hole, dropping in a seed, and giving it time, water, and sun. At least in theory. You can find seeds available at your local garden center or hardware store, but brick-and-mortar retailers usually just carry the most popular, well-known varieties. If you are looking to branch out into heirloom seeds, lesser-known varieties, or reliable producers of well-known plants, purchasing your seeds online can be more economical, offer greater varieties, and help you develop new gardening skills. Here are the best places to buy seeds for your garden online. Courtesy of The Home Depot What We Like Variety of products Carries multiple brands What We Don't Like Limited seed selection Most consumers are familiar with The Home Depot as a one-stop shop for home repair, renovation, and improvement. They also have a decent garden section. If you are working on multiple projects around your home and just want to place one order, The Home Depot is a great place to do it. Plus, they have brick-and-mortar stores, so returns are generally easier than online-only retailers. While they do not specialize in seeds and their selection is not huge, they do carry multiple brands. If you like one particular brand for flowers and prefer another for vegetables, this may be a big perk for you. You…
10 Best Places to Buy Seeds for Your Garden
10 Best Places to Buy Seeds Online for Growing Flowers, Herbs, and Vegetables Many plants are easy to grow from seed such as lettuce, cucumbers, peas, squash, kale, sunflowers, pansies, marigolds and many more! Other plants, such as tomatoes and peppers, need a little more coddling to start from seed, but they're still relatively easy if you have a bright window or inexpensive LED grow light. Whether you're growing your own vegetables, herbs, annuals or perennials, starting any plant from seed is an economical (and fun!) way to stock your garden. That means you'll want to visit the best places to buy seeds, either online or in store.There are so many benefits to ordering your seeds online. For one, you'll have access to more varieties than you can find at your local nursery. For another, many of these companies also supply seedlings, live plants, and bulbs, as well as additional garden supplies. So, you can shop for everything you need to start a vegetable garden in one place! Reading the seed package helps give you a better understanding of growing from seeds, too: Look for the "days to harvest," which helps you determine the last date you can plant. Then, count back from your area's first frost date to get an idea of when you need to start seeds indoors or outdoors once all danger of frost is past. However, some plants, such as lettuce and beans, are better off being "direct seeded," which means you plant them directly in raised garden beds or opt for smaller planters or pots and do not have to give them a head start indoors. Ahead, shop the best places to buy seeds for your garden. Started as a mail-order poultry and livestock catalogue in 1876, Burpee began selling seeds the following year. Today, you'll find plenty of reliable seeds for just about everything you want to plant, including vegetables, flowers, herbs, fruit, and perennials.SHOP NOW 2 Best for Vegetables: Johnny's Selected Seeds For nearly 50 years, Johnny's Selected Seeds has been offering seed for farmers and home gardeners. What started with $500 in a New England farmhouse has morphed into a respected plant breeding and research program. Today, you'll find seeds for heirloom varieties and new varieties with better yields, disease resistance and hardiness. The website's tools, such as the seed starting calendar, are super-helpful to novices and experts alike.SHOP NOW 3 Best for Flowers: Eden Brothers Founded in 2009, Eden Brothers has grown to become an invaluable resource to gardeners looking for hard-to-find varieties. The sheer variety of seeds—from heirloom types to hard-to-find flowers—is astonishing. SHOP NOW 4 Best Budget-Priced Seeds: Ferry-Morse Founded in 1856, Ferry-Morse is the oldest continuously operating seed company in the country. You'll find seeds for flowers, vegetable, herbs, and fruits at great value, so you can stock up on everything for your garden without breaking the bank. SHOP NOW 5 Best for Direct Seeding: Park Seed Founded in 1858 by a 15-year-old boy who wanted to sell seeds from his own garden for pocket money, Park Seed offers seeds of every variety. The direct seed category is neatly sorted to make it quick and easy to shop for seeds you can sow directly in the ground without having to read every seed description. SHOP NOW 6 Best Sowing Instructions: Botanical Interests Not only does Botanical Interests offer a huge variety of flower, herb, and vegetable seeds, but their colorful and pretty seed packaging is the best in the industry. Each packet explains everything you need to know about planting and growing that specific seed. SHOP NOW 7 Best for Rare Seeds: Baker Creek Heirloom Seeds If you're looking for rare and heirloom seed varieties,…
5 Best Places to Buy Seeds Online
5 Best Places to Buy Seeds Online Need to know the best places to buy seeds online? Before this past year, I'd buy all my seeds at Lowes or Home Depot and plan my garden based on what was available in their selection. Then, I'd go home, throw all the seeds in my containers and galvanized water troughs without rhyme or reason and hope that something would work out — not considering thinning, or timing, or anything relevant to optimal growth. Turns out, that's not the best system! (Shocking, I know!) To be fair, I mostly did it with all of my flowers, since I purchased most vegetable seedlings from the store.  But this year … this year is going to be totally different! I've become a sponge for gardening information. I joined my local gardening Facebook group, started following hundreds of gardeners on Instagram and YouTube, and sometimes I stay up until 3am obsessively reading all about the ins and outs of caring for my crops. I even got this cool seed holder (pictured below)! This is the first article in my series to share all that I've learned and that I'm still learning.  I'm starting with seeds because that's where I currently am in the process. I had thought my only options for seeds were at the big home improvement stores (which are totally fine, by the way!), but it turns out there's a vast world out there of options and varieties. Here are my best places to buy seeds online so far:   Botanical Interests I first discovered Botanical Interests at my local Sprouts grocery store and at the nearby nursery. Both places had a really wide section of these beautifully packaged seeds with the cutest illustrations. Now, most of my seed collection comes from this company's website, and I appreciate that they are accessible and affordable. Most packages that contain hundreds of seeds are priced at about the $2 mark, and I can use them for years to come. This year, I'm even using some of their biodegradable planters for my seedlings (which I'll write more about later). Here's their website. Kitazawa Seed Company They say that gardening skips a generation, and that's true in my family. My grandpa, Yoshio Okamoto, whose American name was Paul, was an avid gardener. He had grown up in Walnut Grove, CA near lots of farmland, owned his home in old Elk Grove, CA (after his interment) with lots of acreage to grow food, and then helped raise me alongside him in the garden. Allowing me to ride on his tractor and harvest his produce. My grandpa is a big reason I have a very special place in my heart for Kitazawa Seed Company. In the early 1910s, 20s, and 30s, Kitazawa Seed Company had built a thriving business selling bulk seeds and specializing in Japanese varieties. Then, very unfortunately, in the early to mid 1940s their business was shut down while the owner was forced into a Japanese internment camp. Afterward, upon their reopening, they shifted to a model of business of shipping seeds, since many of their customers had relocated because of the Japanese displacement. Fast forward a few decades, they celebrated their centennial in 2017, and are the oldest company in the US specializing in Asian varieties. I'm proud of their success and love supporting them. Here's their website. Baker Creek Heirloom Seeds If you follow a lot of gardening Instagramming accounts, you'll find that people LOVE this company! Baker Creek has rare seeds that bring fun and uniqueness to your garden. For example, this year, I bought purple beans, kale that looks like a palm tree, multi-colored hot peppers, and some beautiful amaranth (all pictured above).  They also have a gorgeous full-color catalog that you can request to be sent to your home (p. It has a ton of information about the plants, beautiful photography, and it's how I'm always persuaded to go above my budget (that and the fact they have free shipping). You can see my tabbed and loved 2021 copy below. Here's their website. Seed Savers Exchange  This is a nonprofit…
Harris Seeds: Vegetable Seeds, Flower Seeds, Plants …
Harris Seeds: Vegetable Seeds, Flower Seeds, Plants & Growing Supplies Customer Testimonials "Hats off to the entire Harris team. Considering current supply chain and staffing challenges, you all do a superb job. Your web site team clearly communicates your products and makes ordering easy. Your packaging and distribution team gets the products to the customers in record time. Harris is my go-to supplier for seeds and I have never been disappointed. Thank you." – Roger B. "We use Harris Seeds for their quality products and reliable partnership. When you're farming you can't chance delays etc. Harris has been amazing every season." – NG "Whether ordering via Harris Seeds' website or ordering over the phone, I can look forward to consistency of customer service. If there is a question or some confusion, the staff is dependably prepared to assist me. They are knowledgeable, professional, courteous and enthusiastic to help, I have been using Harris Seeds since the 1970s." – Bernadette M.Read more reviews >> ON SALE From the Ground Up Blog 25 May, 2022 Sunflowers for Ukraine: Harris Seeds Donates $20,000 to Ukrainian Relief Efforts Since March 2022, Harris Seeds has been assisting in the Ukrainian relief effort through a new campaign, Sunflowers for Ukraine.   Through the campaign, which ran for the entire month of March before picking back up mid-April, Harris Seeds has donated 100% of proceeds from their online Sunflowers for Ukraine collection to humanitarian efforts in Ukraine due to the Russian Invasion.   "Hearing what's been happening and… Read more about this topic 06 May, 2022 Pumpkin Growers Panel: Answering All Your Pumpkin Growing Questions Join Harris Seeds and Harris Moran as we present the Pumpkin Growers Panel: Answering All Your Pumpkin Growing Questions! We've gathered professional pumpkin growers and breeders from across the country to share their experience and insight into pumpkin growing. We'll cover topics around no-till, crop rotation, cover crops, best storage practices, and more. Chapters 00:00 Welcome! 05:25 New pumpkins from Harris Moran – Olympus, Adonis,… Read more about this topic 28 April, 2022 Grow Smarter Don't get us wrong… We love a starter plant.  But they aren't always the best or most cost-efficient choice when starting your growing season. In fact, although they may seem inexpensive, some big-box stores are charging a crazy price for plants that you can just as easily, and much more cost-effectively, start from seed. Let's talk about it! When to GROW SMARTER… Some crops grow better when they are sown indoors… Read more about this topic Your Trusted Seed Supplier Since 1879 Harris Seeds is your trusted seed distributor whether you are a home gardener or a professional grower and farmer. You can order our free seed catalogs to browse our extensive selection of seeds and supplies as well as see our tips for a successful harvest. Discover exciting new flower seed and vegetable seed varieties we are offering for the new season. Shop with us for the highest quality seeds coupled with excellent customer service. Experience the highest quality products and services when you…
12 Places to Buy Plants and Seeds Online | Taste of Home
12 Places to Buy Plants and Seeds Online Whether you can't make it to the local nursery or you're craving some extra convenience, we rounded up the best places to buy plants (and seeds!) online. Now, get growing! Every editorial product is independently selected, though we may be compensated or receive an affiliate commission if you buy something through our links. Ratings and prices are accurate and items are in stock as of time of publication. 3 / 12 via bloomscape.com Bloomscape If you want to treat yourself or a loved one to a quality houseplant, Bloomscape has you covered. This modern company ships plants straight from the greenhouse to your front door. While their offerings are constantly changing, we currently love the Hedgehog Aloe, Kimberly Queen Fern and Prickly Pear Cactus. As an added bonus, Bloomscape sets you up with everything you need for growing success—including soil, a pot and expert care instructions—while offering plants to fit any price range. Shop Now 10 / 12 via directgardening.com Direct Gardening If you're looking for a good deal, try Direct Gardening. This no-frills site has everything you need—and then some. We love that you can filter items by "Garden Solutions," such as butterfly attracting, deer-resistant, drought-tolerant and more. Shop Now Originally Published: May 12, 2020