by Nebula Haze
Can a potential cannabis grower get in legal trouble for ordering cannabis seeds online to the United States? Where can you safely buy marijuana seeds in the USA?
Can you get in trouble for buying marijuana seeds online?
I am not a lawyer or legal expert so please take anything I saw with a grain of salt. However, I've been growing since 2008 and running GrowWeedEasy.com to teach other people how to grow weed since 2010. Despite talking to literally thousands of growers who've ordered cannabis seeds online, I've never heard of a single example of someone getting in trouble with the law due to it. Not even in states where growing weed is strictly illegal, and not even as a secondhand story about someone else. It may be technically illegal to own cannabis seeds, but there don't seem to be many prosecutions against cannabis seeds in the United States.
People rarely get in trouble for ordering cannabis seeds online.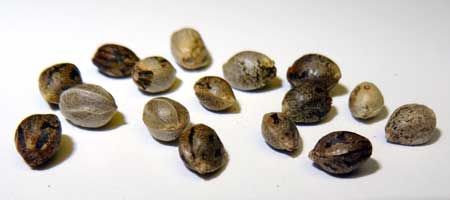 However, that doesn't mean there's no risk.
You never know when it comes to the American legal system, but from what I've seen, your risks with ordering cannabis seeds online are typically social and involve growing as opposed to the actual ordering process. When growers get in trouble, it's nearly always due to the wrong person finding out about the grow. Whether it's a nosy neighbor, your plants smelling up the neighborhood, or telling someone you grow weed. But when it comes to seeds, don't tell your friends you plan to buy seeds because if you suddenly start showing up with a ton of amazing weed they're going to realize you're growing it. So if you plan to order seeds online, keep it to yourself.
How to protect yourself when ordering seeds online
[Most Important] Order from a trusted cannabis seed bank that sells good genetics. Don't get scammed with bad seeds or someone who takes your money and doesn't send anything.
Don't tell anyone in your life that you plan to buy cannabis seeds or grow. They will remember your words when you suddenly start overflowing with dank weed and realize you're growing.
(Optional) Pay with crypto like Bitcoin or Ethereum or another anonymous payment method (I personally order with my regular bank debit card but I live in California)
(Optional) Order to a second home address if you have one, but this is likely unnecessary.
Where to order seeds safely in the United States?
Remember when it comes to buying seeds: Real seed businesses don't contact you. They let you contact them. If anyone messages you to sell you seeds on social media, look out! It's possible they will take your payment and send nothing. Always take a second to think before sending money to anyone, especially if they contact you (whether by DM, text message, phone call, email, etc.).
Recommended Marijuana Seed Sources
These sources have gotten great reviews from our readers:
Seed Supreme – California, United States
ILGM (I Love Growing Marijuana) – California, United States
MSNL Seeds – Shipped out of the UK
Seed Supreme has the best cannabis seed selection of these options. They carry many unique strains from old classics to trendy newer genetics.

The Platinum Cookies plant I'm growing now from Seed Supreme is the one pictured here in the middle. So far it's the fastest-growing plant in the tent (check out the grow journal in progress).
Ultimate Auto has the best yields of any auto-flowering strain I've grown so far. This plant produced over 4 oz per plant even with only a corner of the grow tent to itself.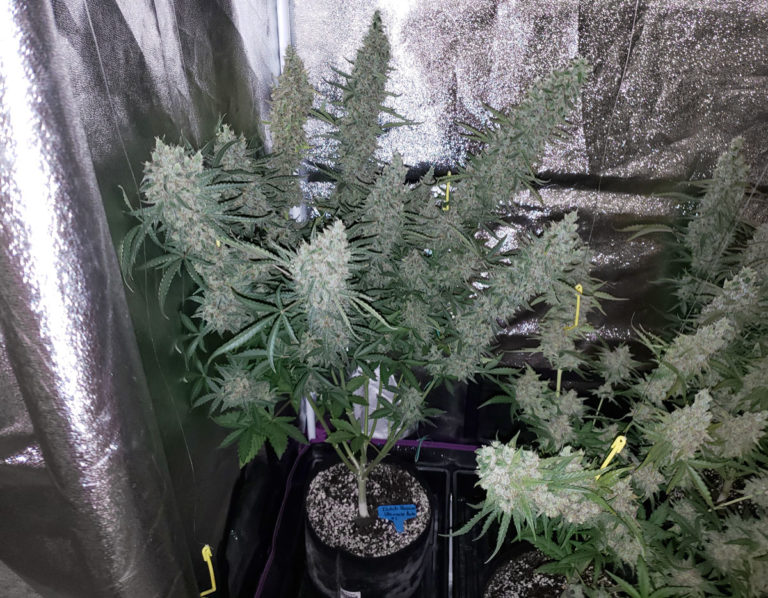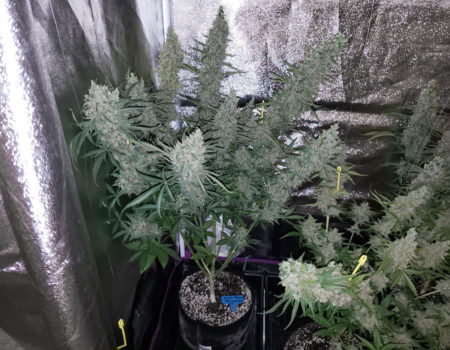 The biggest downside to ILGM as a seed source is their website can be difficult to navigate and find the strains you're looking for. Their strain search is wonky and sometimes the search results are unexpected. But hey, you may find new and interesting strains that way.

MSNL Seeds was founded by a geneticist and they only carry hand-selected strains. They have a relatively small strain selection but the yields, bud quality, and plant growth are excellent. Tends to be a little cheaper than other trustworthy seed banks.

I have had amazing luck with MSNL's autoflowering strains, like this Auto Amnesia grown in a mini tent under a 100W LED grow light.
Example of those Auto Amnesia buds after being dried and cured.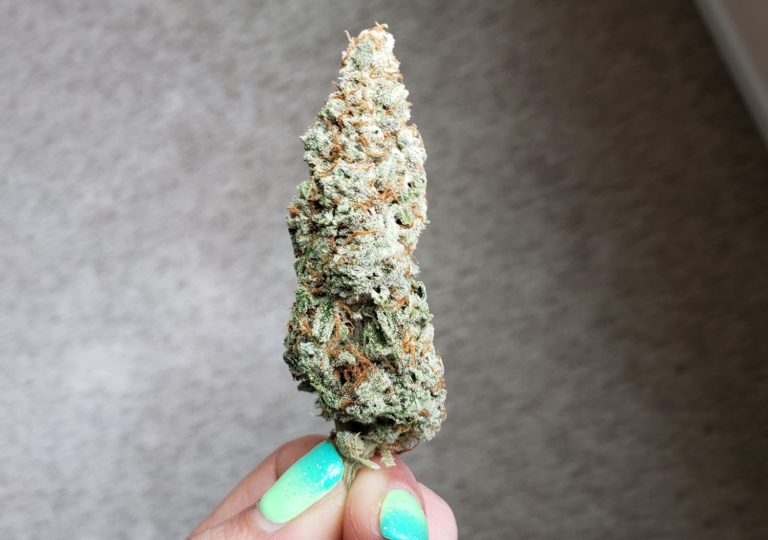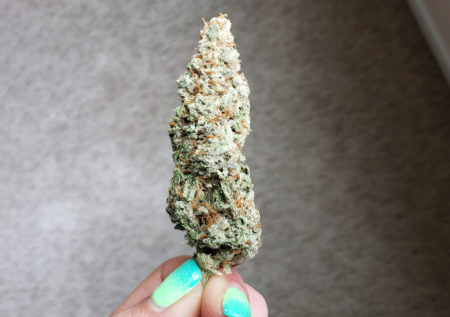 FAQs
Can you get in trouble for ordering cannabis seeds in the US?
Can you get in trouble for ordering cannabis seeds in the US? | Grow Weed Easyby Nebula HazeCan a potential cannabis grower get in legal trouble for ordering cannabis seeds online to the United States? Where can you safely buy marijuana seeds in the USA?Can you get in trouble for buying marijuana seeds online?I am not a lawyer or legal expert so please take anything I saw with a grain of salt. However, I've been growing since 2008 and running GrowWeedEasy.com to teach other people how to grow weed since 2010. Despite talking to literally thousands of growers who've ordered cannabis seeds online, I've never heard of a single example of someone getting in trouble with the law due to it. Not even in states where growing weed is strictly illegal, and not even as a secondhand story about someone else. It may be technically illegal to own cannabis seeds, but there don't seem to be many prosecutions against cannabis seeds in the United States.People rarely get in trouble for ordering cannabis seeds online.However, that doesn't mean there's no risk.You never know when it comes to the American legal system, but from what I've seen, your risks with ordering cannabis seeds online are typically social and involve growing as opposed to the actual ordering process. When growers get in trouble, it's nearly always due to the wrong person finding out about the grow. Whether it's a nosy neighbor, your plants smelling up the neighborhood, or telling someone you grow weed. But when it comes to seeds, don't tell your friends you plan to buy seeds because if you suddenly start showing up with a ton of amazing weed they're going to realize you're growing it. So if you plan to order seeds online, keep it to yourself.How to protect yourself when ordering seeds online[Most Important] Order from a trusted cannabis seed bank that sells good genetics. Don't get scammed with bad seeds or someone who takes your money and doesn't send anything.Don't tell anyone in your life that you plan to buy cannabis seeds or grow. They will remember your words when you suddenly start overflowing with dank weed and realize you're growing.(Optional) Pay with crypto like Bitcoin or Ethereum or another anonymous payment method (I personally order with my regular bank debit card but I live in California)(Optional) Order to a second home address if you have one, but this is likely unnecessary.Where to order seeds safely in the United States?Remember when it comes to buying seeds: Real seed businesses don't contact you. They let you contact them. If anyone messages you to sell you seeds on social media, look out! It's possible they will take your payment and send nothing. Always take a second to think before sending money to anyone, especially if they contact you (whether by DM, text message, phone call, email, etc.).Recommended Marijuana Seed SourcesThese sources have gotten great reviews from our readers:Seed Supreme – California, United StatesILGM (I Love Growing Marijuana) – California, United StatesMSNL Seeds – Shipped out of the UKSeed Supreme has the best cannabis seed selection of these options. They carry many unique strains from old classics to trendy newer genetics.The Platinum Cookies plant I'm growing now from Seed Supreme is the one pictured here in the middle. So far it's the fastest-growing plant in the tent (check out the grow journal in progress).Ultimate Auto has the best yields of any auto-flowering strain I've grown so far. This plant produced over 4 oz per plant even with only a corner of the grow tent to itself.The biggest downside to ILGM as a seed source is their website can be difficult to navigate and find the strains you're looking for. Their strain search is wonky and sometimes the search results are unexpected. But hey, you may find new and…
Is it safe to buy cannabis seeds online? | SensorySeeds
Is it safe to buy cannabis seeds online? | SensorySeeds If you live in a country where cannabis legislation is prohibitive, buying marijuana seeds online is still safe for collectors At SensorySeeds, we know that in countries where cannabis is grown legally (not in the UK), cannabis seeds can be bought in grow shops and online stores. The problem is that weed seeds are not for sale in all countries, and the question 'is it safe to buy cannabis seeds online' is often asked. There are a few points that need to be analysed to be able to buy such seeds online safely. Here are 3 tips for buying marijuana seeds online (as collectables) safely and discreetly. 1) Is it safe to buy cannabis seeds online if I use a prepaid card? Entering your personal information and making online payments by credit card has now become very safe for reliable grow shops like SensorySeeds. Online marijuana seed suppliers usually discard payment information immediately after the order is processed. Cannabis seed shops offer a variety of transaction advantages via an external payment processor, including the ability to make them anonymous. E-commerce can receive payment without directly acquiring your credit card data, processing the payment without storing user's data. At your discretion, major marijuana seed shops, such as our Shop, often guarantee not to use marijuana-related descriptions on your bank statement. But, if you are still a little reluctant to use your credit card, then you can always opt for a prepaid card or a discreet payment option, such as Bitcoin or other crypto-currency, turning to a simple solution to reassure yourself. Read also: What are the best cannabis strains? 3 types for 3 (specific) needs 2) Is it as safe to buy cannabis seeds online as it is to buy them in a physical shop? In the case of SensorySeeds, the answer is yes, because we have a customer service department that offers online payment methods protected and secured by Weldpay, and the additional possibility of paying on delivery of the package if you live in Italy. Besides, the quality and variety of the seeds for sale online, coming from the cells of the famous weed seeds BSF bank, are professionally preserved in vacuum capsules that keep the characteristics and intrinsic potential of the seed unchanged. Our feminized seeds, auto flower seeds and fast flowering seeds, are all BSF certified weed seeds, and you can buy them from our shop at much lower marijuana seed prices than you would find in physical shops. In any case, the advantage of the online shop is the wide variety of seeds available to the customer. They do not need to get up from their sofa to go to the shop to ask if there are those particular seeds that have caught their attention in the online catalogue. Online, you are sure to find what you need, at the same price (even cheaper) and in the same quantity or quality. When comparing prices at BSF Seeds retailers, who carry the best cannabis seeds on the market, it is clear that buying online at SensorySeeds saves tens of Euros compared to buy from a physical retailer who has to bear the costs of a shop. 3) Is it safe to buy cannabis seeds online when I change my email address and choose unsigned delivery? Suppose you wish to prevent your data from being associated with cannabis-related products. In that case, you can choose to select a trackless shipping method so that you do not have to sign for the package when it arrives at its destination. Registered mail, such as "Track and Trace" mail, requires a signature upon receipt to be picked up and opened. Here, not having parcels requiring a signature is a practice that can help protect sensitive data and confidentiality. Without Track and Trace, the package does not usually require a signature on delivery, but you cannot see where your order is going. A more than acceptable compromise if you want to feel at least partially protected when shopping online. Read also: What is a hydroponic greenhouse and…
How To Buy Weed Seeds Safely in 2021 | Weedseedsexpress
How To Buy Weed Seeds Safely in 2021 | Weedseedsexpress There are several ways to safely buy cannabis seeds. In countries, such as the Netherlands, where growing cannabis is legal (read: tolerated), cannabis seeds can often be bought in grow shops and coffee shops. In some countries it is even possible to buy medical marijuana at pharmacies as an MS patient. However, there are still plenty of countries (such as Australia, some parts of the U.S. and countries in Asia) where buying weed is still illegal. So how do you get cannabis seeds?How to get cannabis seeds safely?How do you get marijuana seeds if you live in a country where buying cannabis seeds is still illegal? Simple, you buy marijuana seeds online. This may sound scary, but especially if you live in a country where you cannot or are not allowed to buy cannabis seeds, this is the only solution. Buying cannabis seeds online is safe and discreet, and in most cases they are delivered on time. Even in countries where cannabis seeds are illegal. Luckily, in most European countries you can buy cannabis seeds online without any problems. Want to buy weed seeds in a safe way? Buy at Weedseedsexpress! We make sure your order gets delivered! Check our > Autoflowering cannabis seeds   |   > Feminized weed seeds   |   > Cannabis seeds on SALEWhat should you pay attention to when buying cannabis seeds online?When you decide to buy your seeds online, you also want to make sure you receive good seeds. Unfortunately, there are still online shops that scam customers, offer poor customer service, offer no or very few guarantees and sell bad seeds.ChecklistTo prevent your purchase from turning into a disappointment, it is wise to do some research before making an online purchase. But even if you do a thorough investigation, it can always happen that you buy your cannabis seeds at the wrong place.To help you find the right seed bank, we'll give you some useful tips with this checklist below.Check the legislation in your countryBuy at a European seed bankStart with a small orderDivide your orderChoose a discrete payment methodUse a different nameUse a different email addressHave your shipment delivered in a mailboxChoose a shipping method without the need for a signature1. Check the legislation in your countryAlthough the law in the Netherlands allows small quantities of cannabis seeds to be sold to customers, this does not mean that if you live abroad, growing and germinating cannabis seeds is allowed in your country. We therefore strongly recommend that you check the lawfulness of cannabis seeds in your country and check the regulations regarding the import of seeds before making a purchase.Reading tip: Is it legal to buy cannabis seeds (online)?2. Buy from a European seed shopIf you've Googled a bit, you may have noticed that many shops are located in Canada, the United Kingdom and of course the Netherlands. Dutch online cannabis shops are often located in or around Amsterdam: the source where the highest quality seeds come from and where the most knowledge can be found. For the best quality cannabis seeds, it is therefore best to order from a reputable (Dutch) seed bank with a long track record.3. Start with a small orderIf you buy cannabis seeds more often from a certain cannabis seed shop then this rule doesn't apply, but if you're planning to buy cannabis seeds for the first time, and you want to do this safely, then we recommend you start with a small order. After all, with a small order, the risks are low. You can test the reliability of the shop, as well as the quality of the seeds, without it costing you a lot of money.4. Divide your orderIf you plan to order multiple (varieties of) seeds, it is advisable to divide your order over multiple purchases. For example, by placing a small order at different times or by buying cannabis seeds from different online providers. If an order does not arrive, there is a good chance that the delivery from the other provider will…
Ask a Stoner: Buying Weed Seeds Is Legal Now? – Westword
Ask a Stoner: Buying Weed Seeds Is Legal Now? Dear Stoner: I read a headline that the DEA had just now legalized weed seeds, but I've been ordering them to my house in the Springs for almost a decade. Have I been breaking federal drug laws this whole time? MikeDear Mike: Short answer: Yes. But you can breath easy now, thanks to hemp. I technically break federal drug laws almost every day after work and pretty much every weekend. We all do if we smoke, grow or possess cannabis, even in states that have legalized the plant. Federal pot laws had prohibited seeds, too, but prosecuting online seed banks in legal states or other countries was low on the Drug Enforcement Administration's to-do list. Now that hemp is legal at the federal level, that federal priority has been crossed off entirely. In response to an attorney inquiry, the DEA recently confirmed that seeds and other parts of the cannabis plant with less than 0.3 percent THC (the federal limit separating hemp and marijuana) have been legal since 2018's Farm Bill ended federal hemp prohibition. Hemp and marijuana are the same plant with different THC amounts in their blooming flowers, but neither hemp nor marijuana seeds exceed the 0.3 percent THC limit, so there's virtually no legal difference in them at such an early stage. The DEA also confirmed that it would have nailed you had you been caught before hemp was legalized and that the resulting plants from said seeds are still quite illegal, so count your blessings. Send questions to [email protected]
How to discreetly buy cannabis seeds – Paso Robles Daily News
How to discreetly buy cannabis seeds Are you determined to grow but unsure how to secretly obtain cannabis seeds? Don't worry; you've come to the right place. In the United States of America, where cannabis is legal, there are numerous options for purchasing marijuana seeds, including visiting local cannabis grow shops, purchasing them from a marijuana grower, visiting a dispensary, etc. However, in states where it is not legal, or even legal, but you want something different, the most viable way to buy cannabis seeds is to order them online. But in this article, we'll tell you a little more about buying seeds online. There are several ways to secretly obtain high-quality cannabis seeds. You could, for example, go to a specialized store. Or even grow your cannabis seeds! As a result, here are some pointers to help you buy your seeds discreetly without getting roped up in the process. How to obtain cannabis seed secretly and safely To procure cannabis seeds as secretly and safely as possible, you need to: 1. Make it as legal as possible First off, you should check your local marijuana laws before purchasing cannabis seeds online. While many states have legalized medical marijuana, the laws governing personal marijuana cultivation vary from state to state. To avoid unnecessary legal trouble, you should pay attention to the legality of home growing in your area and the number of plants you can legally grow on your property. 2. Choose your supplier wisely According to Highway420, one of the simplest ways to buy cannabis seeds without taking unnecessary risks is only from reputable seed banks or online stores. Purchasing marijuana seeds from banks has several advantages, including some assurances about the quality of the seeds and the privacy of all your transactions. Furthermore, You can find almost any variety in a seed bank. If you order cannabis seeds from an online store, make sure that it is reputable and trustworthy. Ask a manager if they have any order trackers that can help you track your purchase every step of the way. Also, don't forget to inquire about the package. To avoid unwanted attention from postal workers, you must be discreet and stealthy. 3. Cheap is frequently costly The only disadvantage of purchasing from a cannabis seed bank or online store is the high price. However, you also pay for both safety and quality at this price.  If you don't want to pay the extra money, you can always take a chance and look for a lesser-known provider with lower prices.  You could also look for a different way to buy cannabis seeds. 4. Do not tell anyone The better, the fewer people who know you want to buy marijuana seeds online and start your cultivation. Even if you plan to grow marijuana in a state or country where it is completely legal under local law, the legality of marijuana remains contentious because it is still illegal at the federal level. So the last thing you need is to draw attention to yourself. 5. Collect Seeds…
Can you buy cannabis seeds? | The Spokesman-Review
Can you buy cannabis seeds?By Kate A. Miner EVERCANNABIS Correspondent Although an increasing number of states are relaxing restrictions on growing cannabis at home, Washington is not one of them, as of press time. While a bill that would allow adults 21 years and older to grow recreational-use cannabis at home has been introduced in the Washington state Legislature, currently the only legal exception for home growing is medical. If you have a Washington medical marijuana card, you can grow a small number of plants without registering, and up to 15 if registered. If that's the case, and you're ready to start planting, where can you find seeds? The short answer? It's complicated. Even if you live in California, where it is legal for adults to grow cannabis at home, and you purchase seeds from a California-based seed bank, your package can still be confiscated if mailed. In fact, you could get in more trouble for buying seeds from within the U.S. than from overseas, which is why the majority of reputable seed banks are in Europe. How to buy seeds Even though the United States is one of the world's most progressive countries in terms of cannabis legalization, the herb remains federally illegal. For this reason, it might be best to get your seeds from a friend or buy directly from a licensed shop. However, in these cases, you'll have limited options that may not be suited to how and what type of cannabis you want to grow. For more variety you can buy seeds online, although there are risks. Consider having them shipped to a state where growing marijuana at home is legal. That way, if your package gets intercepted, it's unlikely you will face legal consequences. But you may still face legal jeopardy if you have to cross state lines to bring them home. You should also make your purchase from a reputable seed bank capable of shipping to numerous states that understands the need for discretion. If the seeds are confiscated, most firms will either send a new package for free or refund your money. Where to buy seeds One of the more trustworthy sellers in the United States is I Love Growing Marijuana. Its website features information about growing, what types of seeds you'll need and more. The website and store are run by Robert Bergman, an expert cultivator, and provides free shipping to customers in the United States and Europe. Other online marijuana seed sellers in the U.S. may use incorrect labels when shipping, with terms like "luxury bird food" or "fishing bait additives." Stores also may sell seeds as "collector items" or "additives." Another site worth exploring is the Royal Seed Bank from Canada. This site breaks everything down by the legality of each U.S. state and provides a variety of options. Since most seed banks that offer cannabis seeds source them from seed banks in European countries, you may want to search there too. Cannabis seeds are not illegal in the European Union, and technically it's not illegal to purchase seeds from another country. The Single Convention on Narcotic Drugs, a 1962 framework for marijuana legalization, is an international treaty signed by 180 countries stating…