by Nebula Haze
Can a potential cannabis grower get in legal trouble for ordering cannabis seeds online to the United States? Where can you safely buy marijuana seeds in the USA?
Can you get in trouble for buying marijuana seeds online?
I am not a lawyer or legal expert so please take anything I saw with a grain of salt. However, I've been growing since 2008 and running GrowWeedEasy.com to teach other people how to grow weed since 2010. Despite talking to literally thousands of growers who've ordered cannabis seeds online, I've never heard of a single example of someone getting in trouble with the law due to it. Not even in states where growing weed is strictly illegal, and not even as a secondhand story about someone else. It may be technically illegal to own cannabis seeds, but there don't seem to be many prosecutions against cannabis seeds in the United States.
People rarely get in trouble for ordering cannabis seeds online.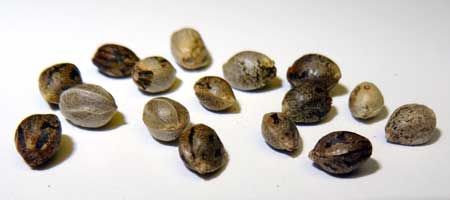 However, that doesn't mean there's no risk.
You never know when it comes to the American legal system, but from what I've seen, your risks with ordering cannabis seeds online are typically social and involve growing as opposed to the actual ordering process. When growers get in trouble, it's nearly always due to the wrong person finding out about the grow. Whether it's a nosy neighbor, your plants smelling up the neighborhood, or telling someone you grow weed. But when it comes to seeds, don't tell your friends you plan to buy seeds because if you suddenly start showing up with a ton of amazing weed they're going to realize you're growing it. So if you plan to order seeds online, keep it to yourself.
How to protect yourself when ordering seeds online
[Most Important] Order from a trusted cannabis seed bank that sells good genetics. Don't get scammed with bad seeds or someone who takes your money and doesn't send anything.
Don't tell anyone in your life that you plan to buy cannabis seeds or grow. They will remember your words when you suddenly start overflowing with dank weed and realize you're growing.
(Optional) Pay with crypto like Bitcoin or Ethereum or another anonymous payment method (I personally order with my regular bank debit card but I live in California)
(Optional) Order to a second home address if you have one, but this is likely unnecessary.
Where to order seeds safely in the United States?
Remember when it comes to buying seeds: Real seed businesses don't contact you. They let you contact them. If anyone messages you to sell you seeds on social media, look out! It's possible they will take your payment and send nothing. Always take a second to think before sending money to anyone, especially if they contact you (whether by DM, text message, phone call, email, etc.).
Recommended Marijuana Seed Sources
These sources have gotten great reviews from our readers:
Seed Supreme – California, United States
ILGM (I Love Growing Marijuana) – California, United States
MSNL Seeds – Shipped out of the UK
Seed Supreme has the best cannabis seed selection of these options. They carry many unique strains from old classics to trendy newer genetics.

The Platinum Cookies plant I'm growing now from Seed Supreme is the one pictured here in the middle. So far it's the fastest-growing plant in the tent (check out the grow journal in progress).
Ultimate Auto has the best yields of any auto-flowering strain I've grown so far. This plant produced over 4 oz per plant even with only a corner of the grow tent to itself.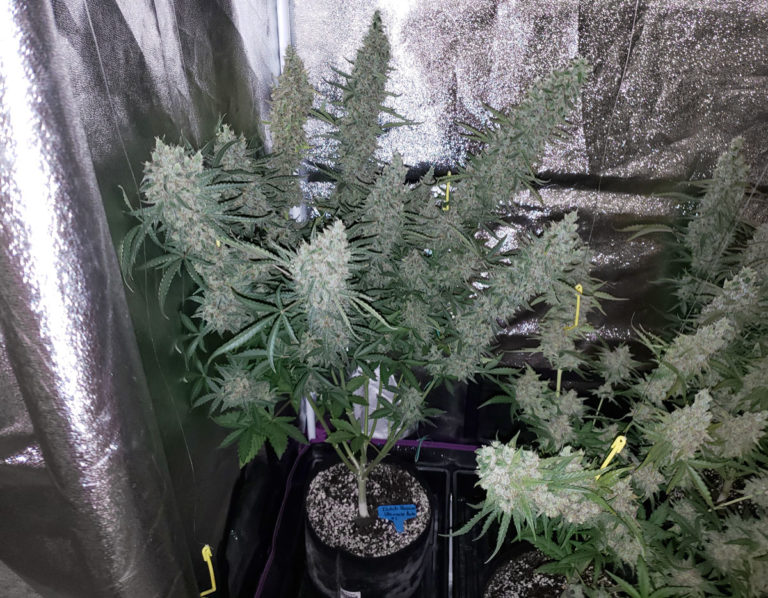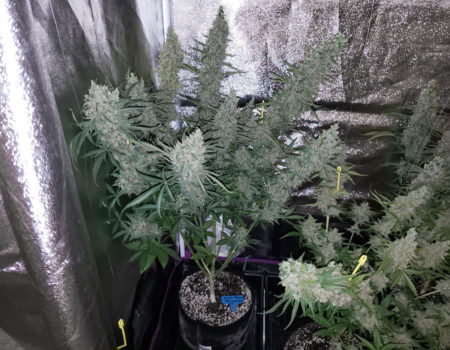 The biggest downside to ILGM as a seed source is their website can be difficult to navigate and find the strains you're looking for. Their strain search is wonky and sometimes the search results are unexpected. But hey, you may find new and interesting strains that way.

MSNL Seeds was founded by a geneticist and they only carry hand-selected strains. They have a relatively small strain selection but the yields, bud quality, and plant growth are excellent. Tends to be a little cheaper than other trustworthy seed banks.

I have had amazing luck with MSNL's autoflowering strains, like this Auto Amnesia grown in a mini tent under a 100W LED grow light.
Example of those Auto Amnesia buds after being dried and cured.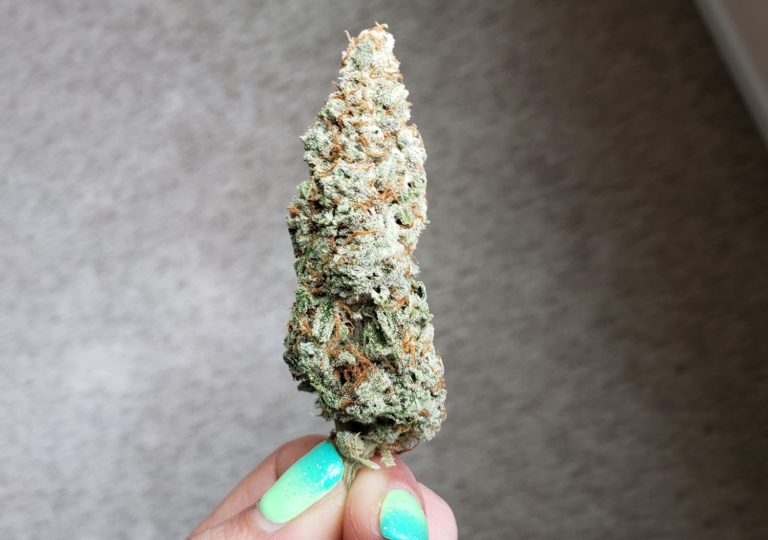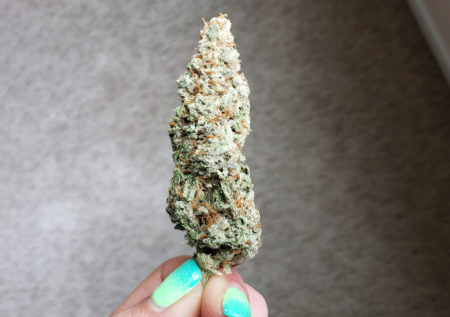 FAQs
Can You Legally Buy Cannabis Seeds Online?
Can You Legally Buy Cannabis Seeds Online? People who are just starting out in their cannabis growing journey are often concerned about the many legalities surrounding the growing of cannabis. Cannabis has developed something of a bad reputation in recent times. This bad reputation is arguably partly to blame for the development of the bad reputation which has left so many people concerned about getting involved with growing their very own cannabis for their own medicinal or recreational use. Don't make the mistake of getting on the wrong side of your law with your cannabis growing! Start out right and follow our simple guide to staying within the law—especially when it comes to buying cannabis seeds online. Why You Might Want to Buy Cannabis Seeds Online There are many different reasons as to why you might want to buy your cannabis seeds online, instead of buying them in a local store. Discretion and Privacy For a start, buying cannabis seeds online usually comes with far more discretion than going into a store. Many people who are just getting started with their cannabis growing experience will want to keep their new hobby a secret, at least to start with—partially because of the poor reputation that cannabis has developed in recent times. Buying seeds online is a great way for people to keep their cannabis growing a little bit quieter. Online shopping means that you won't have to publicly go out to buy your seeds, and seeds are always delivered in discreet packaging that does not hint at the contents as well; this all helps to protect your privacy and discretion. For people who are particularly concerned about discretion, seeds can also be delivered in specialized "extra discreet" packaging such as in a shirt or a wallet. Greater Strain Selection When it comes to choosing the ideal cannabis seeds for your needs and setup, having a good selection of strains to choose between can be highly beneficial. While most cannabis seed stores and dispensaries will offer a good choice of strains for people to consider, they simply cannot rival the incredible selection that is found online. Online seed banks can offer as many as thousands of different strains for people to choose between. These strains will vary in their yields, heights, flavors, THC content and purpose, and many other different factors. This can be important if you're trying to calculate how long will cannabis stay in your system. These online seed banks often offer strains from many different seed breeders, too, further helping to increase the amount of choice that you can have. This incredible selection is essential for anyone looking to find the perfect seeds for their needs, and so many people want to order their seeds online for this very reason. Can I Legally Purchase Marijuna Seeds Online? The answer to this question is not a simple yes or no. Indeed, it is perfectly legal for you to buy your marijuana seeds online—provided that you live in one of a select number of states (for United States residents) or countries (for European residents). In The States If you live in the United States and want to buy marijuana seeds online, you need to check that doing so is legal in your state. Many people make the mistake of assuming that, because one state does or doesn't allow people to buy cannabis seeds online, the same rules will apply to every state; in fact, some states allow you to buy online cannabis seeds, while others do not allow you to buy cannabis seeds online. Even in states that have legalized the use of cannabis, the rules can be highly variable; as such, always do your research and check if your state allows cannabis seed sales online. In The UK In the UK, it is entirely legal to buy cannabis seeds online. However, there is a catch—while you can buy the seeds online without breaking any rules, the act of actually germinating the seeds that you have purchased is illegal; the same is the case for people who have…
How to Legally Purchase Cannabis Seeds in the United States
How to Legally Purchase Cannabis Seeds in the United States – FindLawThinking about starting your own cannabusiness? You are not alone. From CBD to medical marijuana to edibles, legal cannabis has become one of the fastest-growing industries in the United States, with few signs of slowing down any time soon. If your business will include cannabis growing or cultivation, then you are probably wondering how to get your hands on weed seeds… legally. Before taking that step, though, make sure your business has the necessary license to operate legally in your state. First and Foremost: Know Your State Laws State law governs if and how you can operate your cannabis growing business, and each state takes a slightly different approach. Your state may offer a large number of permits with few prerequisites, a small number of permits with an extensive application process, or something in between. Here are a couple of other factors to keep in mind about the legality of cannabis seeds: State law treats growing marijuana for selling purposes differently from growing marijuana for personal use. Your state may allow you to grow a limited number of cannabis plants for personal use without a license. For example, Colorado residents over age 21 can grow up to six plants, with as many as three plants flowering at one time. Cannabis seeds can often be purchased legally for uses other than growing marijuana such as fishing bait, bird food, and preservation. The government recognizes that cannabis seeds have other uses beyond just growing more marijuana. In addition to studying your state's regulations, you should also join local cannabusiness groups and meet with a local cannabis business attorney for assistance. There is no such thing as going into the marijuana business too prepared. Once you are ready to take the step of legally buying cannabis seeds, you have a few options to choose from. It's Best to Shop Local, but Buying Online Is an Option If you live in a state that permits the sale of marijuana seeds, your best bet is to shop locally for high-quality seeds. This means visiting a dispensary, local farmers market, or seed company in your state to make your purchase. There, you can get the in-person help you need to make your purchase legally. It is also an option to buy cannabis seeds online from an online seed bank and then have the seeds shipped to you, so long as you are abiding by state law. The risk here is that your package could still be confiscated. While it is unlikely that you would face criminal charges, there is no guarantee because of the way federal law treats marijuana products. Can I Buy Cannabis Seeds in Other States or Countries? You shouldn't have any trouble buying cannabis seeds in another state or country if it's legal there. It's bringing the seeds back to your home state that can get you into trouble. In the United States, cannabis seeds cannot cross state lines because marijuana products are still illegal under federal law. Though rare, transporting the products across state lines could result in federal criminal charges. This is true even if you are purchasing cannabis seeds in a state that authorizes it and entering a state that also authorizes it. The same is true for buying cannabis seeds in another…
Ask a Stoner: Buying Weed Seeds Is Legal Now?
Ask a Stoner: Buying Weed Seeds Is Legal Now? Dear Stoner: I read a headline that the DEA had just now legalized weed seeds, but I've been ordering them to my house in the Springs for almost a decade. Have I been breaking federal drug laws this whole time? MikeDear Mike: Short answer: Yes. But you can breath easy now, thanks to hemp. I technically break federal drug laws almost every day after work and pretty much every weekend. We all do if we smoke, grow or possess cannabis, even in states that have legalized the plant. Federal pot laws had prohibited seeds, too, but prosecuting online seed banks in legal states or other countries was low on the Drug Enforcement Administration's to-do list. Now that hemp is legal at the federal level, that federal priority has been crossed off entirely. In response to an attorney inquiry, the DEA recently confirmed that seeds and other parts of the cannabis plant with less than 0.3 percent THC (the federal limit separating hemp and marijuana) have been legal since 2018's Farm Bill ended federal hemp prohibition. Hemp and marijuana are the same plant with different THC amounts in their blooming flowers, but neither hemp nor marijuana seeds exceed the 0.3 percent THC limit, so there's virtually no legal difference in them at such an early stage. The DEA also confirmed that it would have nailed you had you been caught before hemp was legalized and that the resulting plants from said seeds are still quite illegal, so count your blessings. Send questions to [email protected]
Buying Marijuana Seeds in United States 2022 – 10Buds
Buying Marijuana Seeds in United States 2022 – 10BudsLaws on Buying & Growing Marijuana Seeds in the United States. Growing Tips, Recommended Strains, and the Best Seed Banks That Ship to the United States For the 2022 Growing Season. In recent years, the United States has seen its cannabis laws change rapidly. While the election outcome in November 2016 has kept federal cannabis laws from changing, individual states have taken up the push for reform, changing their laws to allow legal medical – and in many cases, recreational cannabis. A change of cannabis laws at the federal level in Canada will likely put pressure on the US to legalize as a country, but until then, all of the action is happening at the state level. Here's all you need to know about using and possessing marijuana, as well as growing or buying cannabis seeds in the United States. Best Online Seed Banks for Buying Marijuana Seeds in the United States 2022:MSNL Seed Bank [Read Review]:Online Seedbank Shipping Worldwide. Credit Cards / Bitcoin accepted. Fast, Reliable & Discreet.ILGM Seed Bank [Read Review]:A Reputable Dutch Brand. Shipping Discreetly From California. Bitcoin and Credit Cards accepted.Herbies Seeds [Read Review]:Reliable Spanish Retailer. Shipping Discreetly Worldwide. Bitcoin and Credit Cards accepted.In a Nutshell — Which U.S. States Allow Americans to Buy and Grow Cannabis Seeds from Seed Banks? As you travel throughout the United States, you'll find that different states have different laws pertaining to recreational or medical marijuana — especially in seed form. In some states, both recreational and medical marijuana are legal, while others only allow people to possess pot and buy cannabis seeds from seed banks for the purpose of cultivation if they have a prescription from a doctor. While the specific laws are different in each state, let's break down which states allow cannabis cultivators to buy and grow cannabis seeds. You'll be surprised by how many states allow home cultivators to buy and grow weed seeds from local or online seed banks for medical or recreational purposes! As of 2022, Recreational and Medical Marijuana Is Legal In: Alaska (Guide: Buy Cannabis Seeds in Alaska) California (Guide: Buy Cannabis Seeds in California) Colorado (Guide: Buy Cannabis Seeds in Colorado) Connecticut (Guide: Buy Cannabis Seeds in Connecticut) Maine (Guide: Buy Cannabis Seeds in Maine) Michigan (Guide: Buy Cannabis Seeds in Michigan) Massachusetts (Guide: Buy Cannabis Seeds in Massachusetts) Nevada (Guide: Buy Cannabis Seeds in Nevada) New Mexico (Recreational weed is legal starting June 2021.) (Guide: Buy Cannabis Seeds in New Mexico) New York (Guide: Buy Cannabis Seeds in New York) Oregon (Guide: Buy Cannabis Seeds in Oregon) Vermont (Guide: Buy Cannabis Seeds in Vermont) Northern Mariana Islands Guam (Guide: Buy Cannabis Seeds in Guam) Washington (Guide: Buy Cannabis Seeds in Washington) The District of Columbia (or Washington D.C.) (Guide: Buy Cannabis Seeds in Washington DC) Arizona (Guide: Buy Cannabis Seeds in Arizona) Illinois (Guide: Buy Cannabis Seeds in Illinois) Montana (Guide: Buy Cannabis Seeds in Montana) New Jersey (Guide: Buy Cannabis Seeds in New Jersey) States That Have Legalized Medical, but Not Recreational, Marijuana Are: Alabama (Alabama just passed medical cannabis, but the law has yet to go into effect) (Guide: Buy Cannabis Seeds in Alabama) Arkansas (Guide: Buy Cannabis Seeds in Arkansas) Delaware (recreational weed has been decriminalized but is still illegal) (Guide: Buy Cannabis Seeds in Delaware) Florida (Guide: Buy Cannabis Seeds in Florida)…
DEA Says Marijuana Seeds Are Considered Legal Hemp …
DEA Says Marijuana Seeds Are Considered Legal Hemp As Long As They Don't Exceed THC Limit – Marijuana Moment Marijuana might be federally prohibited, but the Drug Enforcement Administration (DEA) has effectively acknowledged that the plant's seeds are generally uncontrolled and legal, regardless of how much THC might end up being produced in buds if those seeds were cultivated. DEA recently carried out a review of federal statute and implementing regulations in response to an inquiry from attorney Shane Pennington regarding the legality of cannabis seeds, tissue culture and "other genetic material" containing no more than 0.3 percent THC. The agency affirmed that while it used to be the case that marijuana seeds were controlled—full stop—that's no longer the case because of the federal legalization of hemp, as Pennington discussed in an edition of his On Drugs newsletter on Substack on Monday. Following the enactment of the 2018 Farm Bill, hemp has been excluded from the Controlled Substances Act's (CSA) definition of marijuana, making it so all parts of the plant Cannabis sativa L. are uncontrolled as long as they don't exceed 0.3 percent THC. "Accordingly, marihuana seed that has a delta-9-tetrahydrocannabinol concentration of not more than 0.3 percent on a dry weight basis meets the definition of 'hemp' and thus is not controlled under the CSA," Terrence L. Boos, chief of DEA"s Drug & Chemical Evaluation Section wrote in the letter, dated January 6. "Conversely, marihuana seed having a delta-9 tetrahydrocannabinol concentration more than 0.3 percent on a dry weight basis is controlled in schedule I under the CSA as marihuana." Because both hemp and marijuana seeds generally contain nominal THC levels that wouldn't exceed the legal threshold, DEA is essentially conceding that people can have cannabis seeds no matter how much THC the resulting plant might produce, as long as the seeds themselves contain less than 0.3 percent delta-9 THC. Of course, it continues to be federally illegal to use any cannabis seeds with the intent of growing still-prohibited marijuana. "In my view, the letter is significant because we continue to see confusion over the source rule—the argument that the legal status of a cannabis product hinges on whether it is 'sourced' from marijuana or hemp—influencing legislative proposals even at the federal level," Pennington told Marijuana Moment. Pennington's colleague Matt Zorn put together a flow chart that lays out their statutory interpretation: Via On Drugs. "Now that we know that the legality of the ultimate 'source' of both hemp and marijuana plants (their seeds) hinges on delta-9 THC concentration alone, reliance on the source rule is much harder to defend," Pennington said. "I'm hopeful this will clear up a lot of confusion in this area of law." Beyond seeds, the new DEA letter also clarifies that "other material that is derived or extracted from the cannabis plant such as tissue culture and any other genetic material that has a delta-9-tetrahydrocannabinol concentration of not more than 0.3 percent on a dry weight basis meets the definition of "hemp" and thus is not controlled under the CSA." Pennington and Zorn are no strangers to DEA. The attorneys have an extensive history of litigating against the agency on cannabis and broader drug policy issues, helping to break the federal monopoly on marijuana cultivation for research purposes, for example. Zorn is also involved in a separate challenge to DEA's proposal to ban five psychedelic compounds. Researchers and advocates scored a procedural victory in that case in February after the agency's own administrative court agreed to hold hearings on the matter before the prohibition can be enacted. Meanwhile, DEA officials last year clarified to state regulators that an increasingly popular, psychoactive cannabinoid known as delta-8 THC is not a controlled substance under existing statute. The agency officials said that only products containing more than 0.3 percent delta-9 THC—the most commonly known intoxicating cannabinoid—is controlled, but the 2018 Farm Bill that legalized hemp does not explicitly ban THC isomers. Separately, a bipartisan group of members of Congress sent a letter to DEA…
Can you get in trouble for ordering cannabis seeds in the …
Can you get in trouble for ordering cannabis seeds in the US? | Grow Weed Easyby Nebula HazeCan a potential cannabis grower get in legal trouble for ordering cannabis seeds online to the United States? Where can you safely buy marijuana seeds in the USA?Can you get in trouble for buying marijuana seeds online?I am not a lawyer or legal expert so please take anything I saw with a grain of salt. However, I've been growing since 2008 and running GrowWeedEasy.com to teach other people how to grow weed since 2010. Despite talking to literally thousands of growers who've ordered cannabis seeds online, I've never heard of a single example of someone getting in trouble with the law due to it. Not even in states where growing weed is strictly illegal, and not even as a secondhand story about someone else. It may be technically illegal to own cannabis seeds, but there don't seem to be many prosecutions against cannabis seeds in the United States.People rarely get in trouble for ordering cannabis seeds online.However, that doesn't mean there's no risk.You never know when it comes to the American legal system, but from what I've seen, your risks with ordering cannabis seeds online are typically social and involve growing as opposed to the actual ordering process. When growers get in trouble, it's nearly always due to the wrong person finding out about the grow. Whether it's a nosy neighbor, your plants smelling up the neighborhood, or telling someone you grow weed. But when it comes to seeds, don't tell your friends you plan to buy seeds because if you suddenly start showing up with a ton of amazing weed they're going to realize you're growing it. So if you plan to order seeds online, keep it to yourself.How to protect yourself when ordering seeds online[Most Important] Order from a trusted cannabis seed bank that sells good genetics. Don't get scammed with bad seeds or someone who takes your money and doesn't send anything.Don't tell anyone in your life that you plan to buy cannabis seeds or grow. They will remember your words when you suddenly start overflowing with dank weed and realize you're growing.(Optional) Pay with crypto like Bitcoin or Ethereum or another anonymous payment method (I personally order with my regular bank debit card but I live in California)(Optional) Order to a second home address if you have one, but this is likely unnecessary.Where to order seeds safely in the United States?Remember when it comes to buying seeds: Real seed businesses don't contact you. They let you contact them. If anyone messages you to sell you seeds on social media, look out! It's possible they will take your payment and send nothing. Always take a second to think before sending money to anyone, especially if they contact you (whether by DM, text message, phone call, email, etc.).Recommended Marijuana Seed SourcesThese sources have gotten great reviews from our readers:Seed Supreme – California, United StatesILGM (I Love Growing Marijuana) – California, United StatesMSNL Seeds – Shipped out of the UKSeed Supreme has the best cannabis seed selection of these options. They carry many unique strains from old classics to trendy newer genetics.The Platinum Cookies plant I'm growing now from Seed Supreme is the one pictured here in the middle. So far it's the fastest-growing plant in the tent (check out the grow journal in progress).Ultimate Auto has the best yields of any auto-flowering strain I've grown so far. This plant produced over 4 oz per plant even with only a corner of the grow tent to itself.The biggest downside to ILGM as a seed source is their website can be difficult to navigate and find the strains you're looking for. Their strain search is wonky and sometimes the search results are unexpected. But hey, you may find new and interesting strains that way.MSNL Seeds was founded by a geneticist and they only carry hand-selected strains. They have…
Can you buy cannabis seeds? | The Spokesman-Review
Can you buy cannabis seeds?By Kate A. Miner EVERCANNABIS Correspondent Although an increasing number of states are relaxing restrictions on growing cannabis at home, Washington is not one of them, as of press time. While a bill that would allow adults 21 years and older to grow recreational-use cannabis at home has been introduced in the Washington state Legislature, currently the only legal exception for home growing is medical. If you have a Washington medical marijuana card, you can grow a small number of plants without registering, and up to 15 if registered. If that's the case, and you're ready to start planting, where can you find seeds? The short answer? It's complicated. Even if you live in California, where it is legal for adults to grow cannabis at home, and you purchase seeds from a California-based seed bank, your package can still be confiscated if mailed. In fact, you could get in more trouble for buying seeds from within the U.S. than from overseas, which is why the majority of reputable seed banks are in Europe. How to buy seeds Even though the United States is one of the world's most progressive countries in terms of cannabis legalization, the herb remains federally illegal. For this reason, it might be best to get your seeds from a friend or buy directly from a licensed shop. However, in these cases, you'll have limited options that may not be suited to how and what type of cannabis you want to grow. For more variety you can buy seeds online, although there are risks. Consider having them shipped to a state where growing marijuana at home is legal. That way, if your package gets intercepted, it's unlikely you will face legal consequences. But you may still face legal jeopardy if you have to cross state lines to bring them home. You should also make your purchase from a reputable seed bank capable of shipping to numerous states that understands the need for discretion. If the seeds are confiscated, most firms will either send a new package for free or refund your money. Where to buy seeds One of the more trustworthy sellers in the United States is I Love Growing Marijuana. Its website features information about growing, what types of seeds you'll need and more. The website and store are run by Robert Bergman, an expert cultivator, and provides free shipping to customers in the United States and Europe. Other online marijuana seed sellers in the U.S. may use incorrect labels when shipping, with terms like "luxury bird food" or "fishing bait additives." Stores also may sell seeds as "collector items" or "additives." Another site worth exploring is the Royal Seed Bank from Canada. This site breaks everything down by the legality of each U.S. state and provides a variety of options. Since most seed banks that offer cannabis seeds source them from seed banks in European countries, you may want to search there too. Cannabis seeds are not illegal in the European Union, and technically it's not illegal to purchase seeds from another country. The Single Convention on Narcotic Drugs, a 1962 framework for marijuana legalization, is an international treaty signed by 180 countries stating that marijuana is classified as an illegal substance, but it says nothing about seeds. Therefore, since international law takes precedence over a country's own laws, cannabis seeds are technically legal in all 180 countries. However, when a product enters a European country, it becomes subject to that nation's laws, which means it's not easy to purchase seeds. For example, here is a look at cannabis seed laws in a few major European nations: Germany: Seeds do not fall under the German Narcotics Act, so they are technically legal to purchase. Germany has prohibited the sale of cannabis seeds nationwide, but since the country is subject to the…
Where To Buy Marijuana Seeds Online – The Mercury News
Where To Buy Marijuana Seeds Online: Find Weed Seeds for Sale (Stealth USA Shipping)Sponsored Content It always happens at some point or another. You get tired of paying top-dollar for mid-tier marijuana, so you think about growing your own. And because you weren't born yesterday… You know that there are many scams online, so you come to us for help. Luckily for you, we've done our research to include the best cannabis seed banks that offer tried-and-tested strains with high yield potential, discreet packaging, and phenomenal customer support. But most of all? The top seed banks we review below offer 80%+ germination rates. In other words − little to no duds. Anyway, let's get started. Where Can I Buy Cannabis Seeds Online? First Look ILGM – Best place to buy marijuana seeds (free US shipping) Seedsman – 20+ years in the business with discreet shipping Crop King Seeds – High-quality marijuana seeds sold in 140+ stores Herbies Seeds – 2,500+ feminized seeds to choose from Seed City – Deep discounts (up to 50% off) on popular strains Rocket Seeds – Fast shipping to the US and worldwide Mary Jane's Garden – Reputable seed bank with its own breeds Beaver Seeds – Ideal for buying marijuana seeds online in Canada Sonoma Seeds – Luxury collection of high-quality marijuana seeds SunWest Genetics – Great cannabis seed bank for cheap global shipping How We Chose the Most Reputable Seed Banks in the US & Canada Cannabis Strain Selection The best online cannabis seed banks don't skimp in the variety department. No matter which site you choose, you'll have tens of strains and hundreds of seeds to select from. Our top picks make it easy to filter search results by category, blend, and THC percentage. Customer-Verified Reputation Buying cannabis seeds online becomes safer when there's proof in the pudding. Our best marijuana seed banks advertise hundreds (if not thousands) of positive customer reviews on Trustpilot, Reddit, and their own platforms. Domestic & Global Shipping Practices Before you start buying cannabis seeds online, make sure your chosen site will ship to your location without a hassle. The best online seed banks offer expedited and discreet shipping throughout the entire United States, Canada, and most other nations across the globe. Customer Support Options We firmly believe that online seed banks without solid customer service aren't worth your time. The best seed banks offer dedicated, 24/7 support by phone, email, live chat, or a combination of all three. Discounts & Bulk Pricing If you're paying full price for huge orders, you're getting robbed. The best cannabis seed banks make it easy for customers to buy wholesale, and they offer bulk discounts that range from free shipping to free seeds. Where to Buy Marijuana Seeds Online – 2022 Reviews Our top-rated online seed banks offer the best cannabis seeds for sale. We have 14 strong contenders lined up and waiting for your final decision. 1. ILGM – Best Weed Seed Bank Overall (Free US Shipping) Pros Fast, free US shipping 25,000+ verified reviews 100% germination guarantee Buy 10 Get 10 Free deals Guaranteed delivery and reshipment Cons Optional $25…