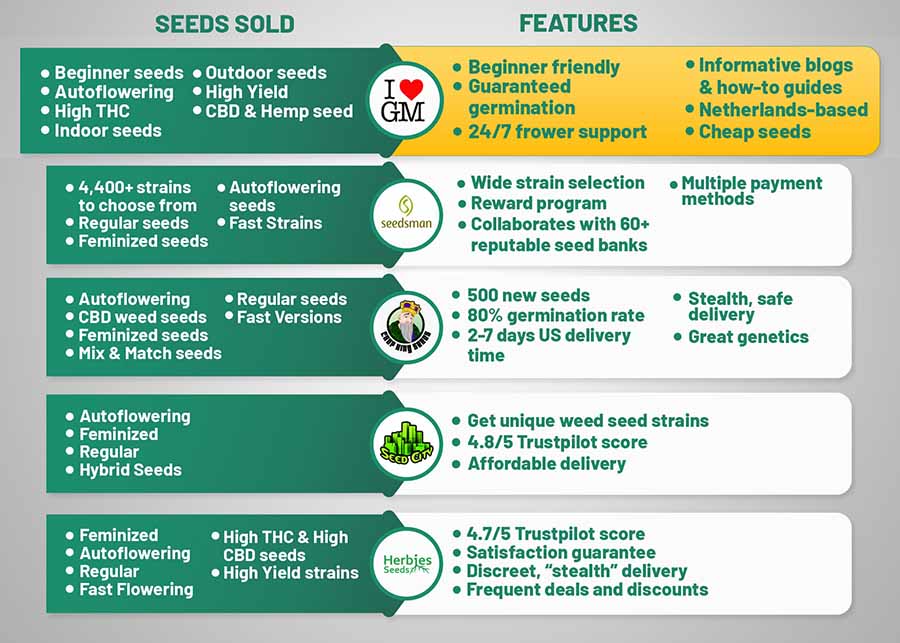 Disclosure: This article may contain affiliate links, meaning we may earn a small commission if readers purchase products through these links. As an Amazon Associate, we earn commission from qualifying purchases.
Looking for garden seed companies that are trusted by real gardeners? These non-GMO seeds have been tested and reviewed by gardening experts and experienced home gardeners. Here's what real gardeners have to say about the best vegetable seeds, flower seeds, and herb seeds for sale online and in local garden stores.
Now let's find the seed company that suits you best by looking at each seed company individually.
1. Burpee Seeds
Burpee Seeds is one of the oldest and most well-known seed companies in the USA. Founded in Pennsylvania in 1876, Burpee has bred some of the most famous vegetable varieties, including Burpee's Big Boy Tomato, Golden Bantam Corn, and Iceberg Lettuce. Burpee Seeds is also known for introducing reliable naturally-bred hybrid seeds and for its popularization of "Victory Gardens".
Burpee Seeds are available directly on the Burpee Seeds Website, and also through their Amazon Storefront and at Home Depot.
2. Botanical Interests
Botanical Interests Seeds & Garden Products offers all untreated, non-GMO seeds. Based in Colorado, they offer a wide variety of seeds packaged with beautiful illustrations, facts, and helpful tips (perfect for gift-giving). The company also supports non-profits school gardens, community gardens, and food banks that promote gardening.
Find their seeds for sale on the Botanical Interests website.
3. Hoss Garden Seeds
Hoss Garden Seeds is an American garden tool and seed company based in Georgia. They are known not only for their high-quality products but also for their popular "Row by Row" weekly gardening show (streaming on YouTube & Facebook). They carry reliable varieties, including a large offering of All-American Selections winning seeds.
Hoss Seeds are available directly from the Hoss Premium Garden Seeds website.
4. Renee's Garden Seeds
Renee's Garden Seeds is known for its beautiful seed packets and catalog of annual flowers and vegetables. Renee's Garden seeds are perfect for the home kitchen garden. They also make a beautiful gift due to their lovely packaging.
Renee's Garden has taken the Safe Seed Pledge, meaning they do not sell genetically engineered seeds. For the best selection, order from Renee's Garden Seeds website. Renee's Garden seeds are also available at independent nurseries and garden centers throughout USA and Canada.
Julia from Julia Dimakos, Gardening Girl says:
"Easily at the top of my list for favourite seed companies, Renee's Garden has the most beautiful selection of flower seeds that I've had the pleasure of coming across!  Not only are the varieties gorgeous, but the beautiful artwork on all seed packages are a pleasure to behold!  I add sweet peas to my kitchen garden, every year.  They have a delicious smell and I love walking through my sweet pea covered garden gate, upon entering the garden.  Renee's sweet pea varieties have the sturdiest stems, perfect for bouquets, and the muskiest aromas.
5. High Mowing Seeds
High Mowing Seeds are known for offering 100% certified organic seed. Their seed is widely available and is tested for germination rates, disease, and GMO contamination. High Mowing is located in Wolcott, VO, and distributes seeds across the US and Canada.
As an organic seed company, High Mowing has taken The Safe Seed Pledge. High Mowing Organic Seeds can be ordered directly from High Mowing and are also sold in these brick-and-mortar locations.
6. Eden Brothers
Eden Brothers specialize in hard-to-find flower seeds, herbs, and heirloom vegetable seeds. Based in Arden, NC, Eden Brothers just might be the perfect place to find that rare flower that you remember from years ago but just can't find locally.
Eden Brothers have taken the Safe Seed Pledge and only offer non-GMO seeds. Order directly from Eden Brothers.
Mattie from the Organic Gardening Community says:
"Their seed packets have a lot of seeds in them-I was surprised. I went to them for my celosia seeds-they have a great variety."
See all Eden Brothers seeds for sale on their website.
7. Territorial Seed
Territorial Seed is known for its high-quality vegetable seeds, detailed growing tips, and online garden planner. Based in Cottage Grove, OR, Territorial offers high-quality vegetable seeds with a variety of maturity dates so you always have something fresh to harvest from your garden.
Territorial Seed has taken the Safe Seed Pledge and offers only untreated non-GMO seed. Order online directly from Territorial or find a local dealer.
Hayley from the Organic Gardening Community says:
"The reason I like Territorial is that they provide a TON of information on the website about planting individual varieties of plants. I feel a lot of companies will leave you hanging on how to care for a particular cultivar and only provide general information. They also have a lot of interesting varieties. They certainly aren't the cheapest, but they make up for that in other areas."
Visit Territorial Seed Company and view all seeds for sale here.
8. Baker Creek Heirloom Seeds
Baker Creek Heirloom Seeds are well-known and well-loved for their incredible selection of rare heirloom seed varieties. Located in Mansfield, MO, Baker Creek publishes a gorgeous annual seed catalog that celebrates the cycle of the gardening season. Their seed packets are equally gorgeous (see photo below).
The founders of Baker Creek have authored several publications, including The Heirloom Life Gardener: The Baker Creek Way of Growing Your Own Food Easily and Naturally. As an heirloom seed company, Baker Creek has taken The Safe Seed Pledge. Here's what real gardeners have to say about seeds for sale from Baker Creek:
Virginia from Homesteadyish says:
"I love Baker Creek! Not only are the seeds affordable, they are all heritage non gmo seeds. The selection is huge from vegetable seeds to flower seeds and herbs too! Their shipping is super cheap! They also put in a free seed packet with my shipment. Friendly staff that even sends a little note of appreciation with your order."
Find Baker Creek Heirloom Seeds at rareseeds.com
9. West Coast Seeds
West Coast Seeds is best known for vegetable seeds for the classic home gardener. Based in British Columbia, West Coast Seeds ships all across North America and offers untreated non-GMO seeds for sale that are well suited to home organic kitchen gardening. In addition to vegetable seeds, they do also have many herb seeds and wildflower varieties. It's the perfect destination if you're into companion planting or would like to attract more pollinators to your vegetable garden!
West Coast Seeds is a signatory of the Safe Seed Pledge, meaning that they sell only non-GMO seeds. Find West Coast Seeds for sale on their website.
10. Victory Seeds
Victory Seeds is a family-owned American seed company known for its open-pollinated, naturally-grown, untreated vegetable, herb, and flower seeds. They only sell their seeds directly to gardeners so the seeds can be stored properly rather than sitting on the shelf in a store.
Victory Seeds is a great option if you're looking to grow tomatoes in pots, as they carry Dwarf Tomato Project seeds from the effort led by Patrina Nuske-Small and Epic Tomatoes author Craig LeHoullier. They also carry tobacco seeds, grains, cover crops, and some particularly rare vegetable varieties. I haven't yet grown their seeds myself but will hopefully be doing so soon!
Victory Seeds has taken the Safe Seed Pledge. You can buy their seeds online on their own website.
11. Seed Savers Exchange
Seed Savers Exchange is a non-profit organization dedicated to saving and sharing seeds. They promote biodiversity and community-building through their seed exchange program. The Seed Savers Organization is based out of Iowa, but member growers are located all over the country.
Seed Savers has taken the Safe Seed Pledge. Find seeds for sale from Seed Savers online at their website, order on Amazon, or pick them up at these locations.
Erika from the Organic Gardening Community says:
"I'm a big fan of Seed Savers Exchange. They have a lot of organic seeds and I've had great success with their seeds."
Visit the Seed Savers Exchange website.
12. Johnny's Seeds
Johnny's Seeds is known as a top choice for market gardeners and homesteaders with larger garden plots. Headquartered in Fairfield, Maine, they sell seeds and tools for home gardeners and small farmers. Johnny's is known for its dependable disease-resistant varieties and market crops with short maturity dates. Their seed packets and growers guides also have a lot of detail!
Johnny's is one of the larger companies to have taken the Safe Seed Pledge. They do sell a few seeds that can be traced back to Monsanto, but these seeds are conventionally bred (not GMO). All that said, they remain a trusted commercial seed supplier for many home gardeners and market growers.
Virginia from Homesteadyish says:
"Johnny's has a wide variety of seed from vegetables to flower seeds. They carry some organic non gmo seeds. Shipping is fast and they do offer free shipping with a minimum purchase."

Virginia from Homesteadyish
13. Fedco Seeds
Fedco Seeds is known for reliable, cold-hardy vegetable seeds that are adapted to the Northeastern climate. Based in Clinton, ME, Fedco is structured as a cooperative owned by seed co-op members and employees. They have a wonderful selection of crops, including organic and heirloom seeds for sale for reasonable prices. Fedco also ships bulbs and live plants.
Fedco has taken the Safe Seed Pledge and regularly tests for genetic contamination. Order their seeds for sale directly from Fedco.
Mattie from the Organic Gardening Community says:
"Fedco is a Maine Company–it's a big "go to" here in Maine-they have a great reputation and attend the organic Fair we have here in Maine. They have a great variety of seeds and there staff are very knowlegable and helpful. They gave me info and advice on my carrot problems."
Find Fedco seeds for sale on their website.
14. Richters Seeds
Richters Seeds is a favorite of many herb gardeners and herbalists in North America. Based in Goodwood, Ontario, Richters offers an impressive variety of medicinal and culinary herbs. They also ship potted herb plants and plug trays.
15. Pinetree Garden Seeds
Pinetree Garden Seeds of Maine is known for its wide variety of seeds sold online at reasonable prices. They have signed the Safe Seed Pledge and are committed to sustainable agriculture.
Nikole from the Organic Gardening Community says:
"I'm a big fan of Pinetree Garden in Maine. The variety and prices are great and I always get beautiful plants from them!"
Visit Pinetree Garden Seeds online.
16. Southern Exposure Seed Exchange
Southern Exposure Seed Exchange is known for its heirloom seeds that are suited to the climate of Mid-Atlantic and Southeast USA. Located in Mineral, VA, it's a worker-run cooperative company. A majority of the seeds offered by Southern Exposure are certified organic and almost all are open-pollinated. No seeds offered are chemically treated.
Southern Exposure Seed Exchange has taken the Safe Seed Pledge and has a comprehensive non-GMO policy. Order directly from Southern Exposure.
Shannon from We'll Eat You Up, We Love You So says:
"I practice what one of my fellow community garden volunteers once called "lazy gardening." While my methods aren't actually lazy, I do try to work with nature rather than fight against it. In particular, I try to adapt as much as I can to my region, local climate, and other conditions. As I live in the Washington D.C. region, this means hot, humid, and buggy. 

Southern Exposure Seed Exchange offers the best seeds for these conditions. Southern Exposure offers heirloom and organic seeds that specifically grow well in the mid-Atlantic and Southeast areas of the United States. They offer a wonderful variety of vegetable seeds, flower seeds, herbs, mushrooms, and cover crops. For the most popular vegetables, they offer a number of varieties, providing in-depth descriptions of what the variety is best suited for, how long it takes to grow before harvest, and what the final plant looks like.

The seeds are reasonably priced – $2.50 for a regular bag of most seeds and $5.50 for a bulk size. Ordering is simple – you place your order online and they ship it to your house. The only delay I've ever had is in ordering sweet potato starts, as they don't deliver them until it is time to plant. The quality of the seed and varieties have consistently been good, with my plants often being strong and withstanding some serious challenges, including bugs and deer munching. 

As a bonus, Southern Exposure is particularly great for gardening with kids. My kids love looking through their catalog – their last one had dwarves frolicking among vegetables on the cover. Inside, the catalog always has beautiful full-color illustrations, which makes my kids excited to plan the garden with me. The seed envelopes are pretty sturdy, which is important when small children are starting seeds. Most packages also come with a lot of seeds, making it possible to withstand a certain amount of spillage and wasted seeds."
View all seeds for sale from Southern Exposure on their website.
Resources
FAQs
What is the best website to order seeds from?
The 9 Best Places to Buy Seeds of 2022
The Home Depot. "This retailer offers the convenience of shipping or ordering online and picking up at the store and offers a variety of seeds from multiple brands."
American Meadows. …
Terrain. …
Burpee. …
Seeds Of Change. …
Eden Brothers. …
Seed Savers Exchange. …
Baker Creek Heirloom Seeds.
Which company flower seeds are best?
12 Terrific Seed Companies for 2022
(1) Park Seed. …
(2) Baker Creek Heirloom Seeds. …
(3) Hudson Valley Seeds. …
(4) Pinetree Garden Seeds. …
(5) Johnny's Selected Seeds. …
(6) Renee's Garden. …
(7) Swallowtail Garden Seeds. …
(8) Burpee Seeds.
What is the number one seed company?
Bayer (Monsanto)
10 Best Places to Buy Seeds for Your Garden
10 Best Places to Buy Seeds Online for Growing Flowers, Herbs, and Vegetables Many plants are easy to grow from seed such as lettuce, cucumbers, peas, squash, kale, sunflowers, pansies, marigolds and many more! Other plants, such as tomatoes and peppers, need a little more coddling to start from seed, but they're still relatively easy if you have a bright window or inexpensive LED grow light. Whether you're growing your own vegetables, herbs, annuals or perennials, starting any plant from seed is an economical (and fun!) way to stock your garden. That means you'll want to visit the best places to buy seeds, either online or in store.There are so many benefits to ordering your seeds online. For one, you'll have access to more varieties than you can find at your local nursery. For another, many of these companies also supply seedlings, live plants, and bulbs, as well as additional garden supplies. So, you can shop for everything you need to start a vegetable garden in one place! Reading the seed package helps give you a better understanding of growing from seeds, too: Look for the "days to harvest," which helps you determine the last date you can plant. Then, count back from your area's first frost date to get an idea of when you need to start seeds indoors or outdoors once all danger of frost is past. However, some plants, such as lettuce and beans, are better off being "direct seeded," which means you plant them directly in raised garden beds or opt for smaller planters or pots and do not have to give them a head start indoors. Ahead, shop the best places to buy seeds for your garden. Started as a mail-order poultry and livestock catalogue in 1876, Burpee began selling seeds the following year. Today, you'll find plenty of reliable seeds for just about everything you want to plant, including vegetables, flowers, herbs, fruit, and perennials.SHOP NOW 2 Best for Vegetables: Johnny's Selected Seeds For nearly 50 years, Johnny's Selected Seeds has been offering seed for farmers and home gardeners. What started with $500 in a New England farmhouse has morphed into a respected plant breeding and research program. Today, you'll find seeds for heirloom varieties and new varieties with better yields, disease resistance and hardiness. The website's tools, such as the seed starting calendar, are super-helpful to novices and experts alike.SHOP NOW 3 Best for Flowers: Eden Brothers Founded in 2009, Eden Brothers has grown to become an invaluable resource to gardeners looking for hard-to-find varieties. The sheer variety of seeds—from heirloom types to hard-to-find flowers—is astonishing. SHOP NOW 4 Best Budget-Priced Seeds: Ferry-Morse Founded in 1856, Ferry-Morse is the oldest continuously operating seed company in the country. You'll find seeds for flowers, vegetable, herbs, and fruits at great value, so you can stock up on everything for your garden without breaking the bank. SHOP NOW 5 Best for Direct Seeding: Park Seed Founded in 1858 by a 15-year-old boy who wanted to sell seeds from his own garden for pocket money, Park Seed offers seeds of every variety. The direct seed category is neatly sorted to make it quick and easy to shop for seeds you can sow directly in the ground without having to read every seed description. SHOP NOW 6 Best Sowing Instructions: Botanical Interests Not only does Botanical Interests offer a huge…
9 of the Best Places to Buy Seeds Online for Your Garden
9 of the Best Places to Buy Seeds Online for Your Garden As this year's seed catalogs start landing in my mailbox and inbox, I'm making a list of old favorites and new varieties I want to grow this year. There are classics I always plant, such as 'Better Boy' tomato and 'Black Beauty' eggplant, which I know will be available at my local garden center in the spring. But for those more unusual, harder-to-find varieties of veggies and flowers, the Internet is the way to go. The best places to buy seeds online depends on the types of plants you're looking for. These top choices each offer plenty of high-quality options for veggies, herbs, flowers, and more. Kindra Clineff 1. Best Flower Seeds: Renee's Garden Renee Shepherd, founder of Renee's Garden, trials and chooses all the flower seed varieties her company sells. Along with open-pollinated and heirloom varieties from around the world, Renee's Garden also offers exclusive varieties like 'Summer Peaches' alyssum and mixes like Spinning Wheels marigolds. You can shop exciting vegetable and herb varieties, too. And each seed packet is a miniature work of watercolor art with personally-written descriptions and growing instructions. You'll be tempted to save them for crafts, garden journals, or scrapbooks. 2. Best Vegetable Seeds: Johnny's Selected Seeds Every year, the gardeners at Johnny's Selected Seeds plant thousands of vegetable varieties to find the best for their customers. Browse their site for organic and heirloom veggie seeds, exclusive varieties, award-winners, and seeds for hydroponic and greenhouse growing. Some smaller seeds, including lettuce, carrots, and onions, are available in pellet form. This makes them easier to see and handle, whether you're sowing by hand or using a mechanical seeder. Pro tip: Order only as much as you can use in a growing season; pelleted seeds often have a shorter shelf life. 3. Best Heirloom Seeds: Seed Savers Exchange Seed Savers Exchange helped launch the heirloom seed movement in 1975. Now, this non-profit based in Decorah, Iowa, maintains a seed bank of over 25,000 rare and heirloom varieties. While some heirloom seeds are now produced on a commercial scale and widely available, other varieties are still found only in backyard gardens. Join the Exchange, and you can share or request homegrown flower, vegetable, and herb seeds from other members across the U.S. 4. Best New Varieties: Park Seed Almost all seed companies offer new varieties each year, so it's hard to pick just one. I like Park Seed, which has added over 140 new choices to its 2022 lineup. You'll also find unique seeds exclusive to Park, along with growing supplies, tools, and bulbs. This company occasionally runs sales and offers discounts, so check the website often for a good deal or sign up for its newsletter (you'll get a discount when you do). 5. Best Non-GMO Seeds: Botanical Interests Focused on organic gardening practices, Botanical Interests was among the first to sign the Safe Seed Pledge, which promises the company won't "knowingly buy, sell, or trade genetically-engineered seeds or plants." Many of its herb, flower, and vegetable varieties are heirlooms; some are new or exclusive, and the seed packets don't contain fillers. Colorful seed packets tell you when to harvest and include recipes, landscape ideas, gardening history, organic pest-control tips, and more. Bob Stefko 6. Best Herbs: Eden Brothers Buy a packet or in bulk from Eden Brothers, where you'll…
8 Best Places to Order Vegetable Seeds – Elle Decor
The 8 Best Places to Order Vegetable Seeds Online Courtesy of Food52 During this period of sheltering at home for much of America, vegetable gardening has quickly become one of the nation's top pastimes. Not only is it a great way to get outdoors, but done well, it can also (eventually) limit the number of trips you'll have to make to your local grocery store. If you're thinking about planting a garden but aren't sure where to start, look no further—ELLE Decor has found the best direct-to-consumer seed companies that specialize in organic produce. The best part: Some even have teams of gardeners who can guide you in your efforts from start to finish. So get planting! 1 Baker Creek Heirloom Seeds Known for its rare varieties, Baker Creek expertly curates its seed selections. From seasonal florals to any—and every—kind of pepper imaginable, this will be your new one-stop shop for garden seeds.Shop Now Seed Savers, which specializes in protecting and preserving endangered plant varieties, will walk you through the entire gardening process, from planting right up through picking. Shop Now Celebrating 150 years of "gardening friendship," Park Seed sees the act of gardening as a way to enrich the soul. Offering specialized kits for indoor growing and shade-tolerant plants, this company has all your bases covered.Shop Now 4 Peaceful Valley Farm & Garden Supply Peaceful Valley began as an effort to combat the industrialized mass production of agricultural products. Its seed store is explicitly designed to open up the world of organic produce to all home gardeners.Shop Now 5 Territorial Seed Company Territorial is a family-owned seed company that carries both conventional and organic options. It also offers garden guides to help you optimize growth throughout each season.Shop Now Kitazawa has a fabulous selection of traditional Asian produce. From edamame to bok choy, the company prides itself on its Japanese heirloom seeds. Shop Now In addition to its organic, high-quality seeds, Botanical Interests is known for its extra-informative seed packets, which include garden history lessons, landscaping ideas, organic gardening know-how, recipes, and fun facts.Shop Now Produced from just a few regional farms in Oregon, Adaptive Seeds' packets are specially formulated to thrive in the shorter gardening season of the Pacific Northwest.Shop Now Kate McGregor Kate McGregor is the Market Assistant for ELLE Decor covering all things home decor, design, and style.
5 Best Places to Buy Seeds Online
5 Best Places to Buy Seeds Online Need to know the best places to buy seeds online? Before this past year, I'd buy all my seeds at Lowes or Home Depot and plan my garden based on what was available in their selection. Then, I'd go home, throw all the seeds in my containers and galvanized water troughs without rhyme or reason and hope that something would work out — not considering thinning, or timing, or anything relevant to optimal growth. Turns out, that's not the best system! (Shocking, I know!) To be fair, I mostly did it with all of my flowers, since I purchased most vegetable seedlings from the store.  But this year … this year is going to be totally different! I've become a sponge for gardening information. I joined my local gardening Facebook group, started following hundreds of gardeners on Instagram and YouTube, and sometimes I stay up until 3am obsessively reading all about the ins and outs of caring for my crops. I even got this cool seed holder (pictured below)! This is the first article in my series to share all that I've learned and that I'm still learning.  I'm starting with seeds because that's where I currently am in the process. I had thought my only options for seeds were at the big home improvement stores (which are totally fine, by the way!), but it turns out there's a vast world out there of options and varieties. Here are my best places to buy seeds online so far:   Botanical Interests I first discovered Botanical Interests at my local Sprouts grocery store and at the nearby nursery. Both places had a really wide section of these beautifully packaged seeds with the cutest illustrations. Now, most of my seed collection comes from this company's website, and I appreciate that they are accessible and affordable. Most packages that contain hundreds of seeds are priced at about the $2 mark, and I can use them for years to come. This year, I'm even using some of their biodegradable planters for my seedlings (which I'll write more about later). Here's their website. Kitazawa Seed Company They say that gardening skips a generation, and that's true in my family. My grandpa, Yoshio Okamoto, whose American name was Paul, was an avid gardener. He had grown up in Walnut Grove, CA near lots of farmland, owned his home in old Elk Grove, CA (after his interment) with lots of acreage to grow food, and then helped raise me alongside him in the garden. Allowing me to ride on his tractor and harvest his produce. My grandpa is a big reason I have a very special place in my heart for Kitazawa Seed Company. In the early 1910s, 20s, and 30s, Kitazawa Seed Company had built a thriving business selling bulk seeds and specializing in Japanese varieties. Then, very unfortunately, in the early to mid 1940s their business was shut down while the owner was forced into a Japanese internment camp. Afterward, upon their reopening, they shifted to a model of business of shipping seeds, since many of their customers had relocated because of the Japanese displacement. Fast forward a few decades, they celebrated their centennial in 2017, and are the oldest company in the US specializing in Asian varieties. I'm proud of their success and love supporting them. Here's their website. Baker Creek Heirloom Seeds If you follow a lot of gardening Instagramming…
12 Terrific Seed Companies for 2022 – Enchanted Gardens
12 Terrific Seed Companies for 2022 — Enchanted Gardens Will you be growing vegetables this year, or starting a cutting garden? Here are ten terrific companies to order seeds from this year. Warning: you will have a tough time choosing a company to order from and narrowing down your seed selections! (1) Park SeedFounded in 1863, Park Seed has a long history of supplying vegetable and flower seeds to customers all over the US. You will find cutting and bedding flowers, organic vegetables, heirloom varieties, herbs, as well as garden-ready plants, fruits and seed-starting supplies.parkseed.com (2) Baker Creek Heirloom SeedsBaker Creek promotes and preserves our agricultural and culinary heritage by offering one of the largest selections of seeds from the 19th century, including many Asian and European varieties. A family business located in Missouri, you feel find their personal touch and photos of family and employees on their website and in the catalog. All orders have no shipping and handling charges in the US.rareseeds.com (3) Hudson Valley SeedsHudson Valley Seeds is best known for their Art Packs, which unite practical aspirations in the garden with the universal human desire for beauty, meaning, and joy. The company has its roots in the public library of Gardiner, New York. Co-founder Ken Greene, then working as a librarian, had been interested in the local food movement and, realizing there was little discourse about the seeds that grow our food, started the country's first seed library program in 2004. The more he delved into the subject, the more he realized that working with seeds was a way to work with issues concerning the environment, health, history, culture, and more, and Hudson Valley Seeds was born in 2008. The company offers heirloom and open-pollinated organic garden seeds only.hudsonvalleyseed.com (4) Pinetree Garden SeedsA family-owned business operating out of a 300 year old farmhouse in Maine, Pinetree offers more than 1300 varieties of seeds at low prices for the home gardener. Their seeds are sold in smaller packets so that you can try a larger variety of flowers or vegetables. All seeds are non-GMO. Their Bring in the Butterflies Collection includes annuals and perennials that will lure the butterflies to your garden. In addition to seeds, the company sells spices and teas, essential oils, soap-making supplies and other crafting materials.superseeds.com (5) Johnny's Selected SeedsAlso located in Maine, Johnny's has been selling a diverse selection of vegetable and flower seeds for 45 years. In addition to seeds, they offer an impressive array of seed-starting and gardening supplies and tools for both homeowners and professional growers. The website has a terrific grower's library section with lots of tips and resources. johnnyseeds.com (6) Renee's Garden Renee's Garden is a company run by gardeners, for gardeners. Renee harvests and uses the vegetables and herbs in her kitchen to choose the most delicious, and cuts the flowers for bouquets to select the finest colors, forms and fragrances. She offers only non-GMO varieties of vegetables, herbs and flowers that are very special for home gardeners, based on great flavor, easy culture and exceptional garden performance.reneesgarden.com (7) Swallowtail Garden SeedsLocated in California, Swallowtail has an impressive collection of flower seeds – both perennials and annuals. They even have a separate web page for flowering vines, if you want to try clematis, passion vine, cardinal climber, cup and saucer and many others from seed. You will also find heirloom vegetables and herbs. Shipping and handling is $5.99 for all orders.swallowtailgardenseeds.com (8) Burpee SeedsWhen W. Atlee Burpee began selling…
Best Online Seed Companies to Order From This Spring
Best Online Seed Companies to Order From This Spring Photo credit: Unsplash/Markus Spiske In a time when just about everyone is spending more time at home, it's no wonder home gardening is rapidly growing in popularity. And one of the easiest ways to jumpstart your gardening adventures this spring is to order seeds online. But where to begin? We've rounded up some of the best seed companies to consider so you can get a running start on planning this year's crops. Baker Creek Seeds Baker Creek has a twin reputation for curating rare seed varieties and sharing the most exquisite and colorful photographs in their massive annual seed catalog. You can find everything under the sun here, from seasonal florals to uncommon varieties of peppers, greens and tomatoes. Even if you decide to order your stash from their online platform, we highly recommend requesting their free seed catalog to feast your eyes on throughout the remainder of the cold months. See more: How to Start a Vegetable Garden From Seeds Trade Winds Fruit Trade Winds Fruit has developed a winning reputation as a reputable distributor of rare and heirloom seeds over the years, pedaling everything from peppers and greens to tropical fruits and ornamentals. If your climate allows for it, why not try your hand at baby kiwi, bael fruit or sugar apples? They also have an entire collection of hot peppers for those gardeners who are keen on cultivating a spicy selection. Their 7 Pot Caramel Pepper, for instance, reaches a whopping 900,000 SHU. Seed Savers Exchange Seed Savers Exchange concentrates their efforts on conserving and promoting a vast number of endangered heirloom seed varieties. In addition to offering all kinds of beautiful vegetable, flower and herb collections, Seed Savers Exchange has an impressive list of resources, programs and exhibits designed to help new and seasoned gardeners alike. See more: How to Grow and Harvest Garlic Territorial Seed Company Territorial Seed Company is a family-owned and operated business that provides you with both conventional and organic selections, as well as free in-depth guides to help new gardeners get their hands in the dirt. They also sell everything from handy tools and supplies to pest control, trellising and soil testing kits, making them a handy one-stop online shop. Burpee Seeds Did you know Burpee Seeds has been around since 1881? You can choose from hundreds of vegetables, fruits and herbs or fill your garden with the most beautiful flowers that come in all shapes and sizes. All of their seeds are non-GMO and guaranteed, which means you can branch out and try something new this year without worrying about losing your hard-earned dollars if they fail. See more: 10 Gardening Instagram Accounts You Should Be Following Floret Flowers Anyone with a passion for growing flowers is sure to fall in love with the seed and bulb collections at Floret Flowers. This family-run farm offers some of the most beautiful and unique flower varieties in the world, only presenting the best of the best to their customers for purchase. We recommend narrowing down your choices early though because they have a tendency to sell out quickly as the growing season approaches. High Mowing Organic Seeds High Mowing is another fantastic place to find certified organic seed selections to fill your garden. They do recommend you plant their seeds in organic conditions, seeing as that's where they will thrive the best, so keep that in mind when you start narrowing down your shopping cart. As an added bonus, High Mowing sources many of their offerings from independent farmers, so you can feel good knowing your purchase will benefit all the right people. See more: 9 Creative Spring Gardening Projects for Kids Seeds of Change A portion of the revenue from every sale made at Seeds of Change goes toward community projects designed to help people learn how to grow their own food, and consequently lead healthier lives. If that's not enough to inspire you to check out this clever seed company, just wait until you look through their offerings. You can browse…
Best Places to Buy Garden Seeds
Best Places to Buy Garden Seeds URL: http://www.gardengatemagazine.com/articles/flowers-plants/plant-guide/best-places-to-buy-garden-seeds-online/ Home Flowers & Plants Plant Guide Best Places to Buy Garden Seeds By: Sherri Ribbey Wondering where to get the best seeds for growing tasty vegetables or beautiful flowers? Check out some of our favorite mail-order seed sources. Trusted websites to buy seeds online Buying quality seed makes a difference in how well your new plants will take off. Here are several of our favorite mail-order sources for garden seeds. Learn what we like about each one in the list that follows. Annie's Annuals & Perennials www.anniesannuals.com Specializes in rare and unusual plants Baker Creek Heirloom Seeds www.rareseeds.com Lots of heirloom and exotic vegetable seeds you won't find at the garden center Botanical Interests www.botanicalinterests.com Sells seeds for vegetable, herb and flower gardens, with special emphasis on certified organic seed Johnny's Selected Seeds www.johnnyseeds.com Sells seeds for fruits, vegetables, flowers and herbs, offers certified organic seed options John Scheepers Kitchen Garden Seeds www.kitchengardenseeds.com Family owned and operated, sells seeds for fruits, vegetables, flowers and herbs Pinetree Garden Seeds www.superseeds.com Wide variety of vegetable and flower seeds at economical prices Prairie Moon Nursery www.prairiemoon.com Plants, seed mixes and information for all types of native plantings and restoration Renee's Garden www.reneesgarden.com Seeds for gourmet vegetables, herbs and cut flowers, especially large sweet pea flower collection Seed Savers Exchange www.seedsavers.org Heirloom and old-fashioned seeds; committed to preserving biodiversity Select Seeds www.selectseeds.com Sells seeds (and plants, too) for flowers, including heirloom, native, and pollinator-friendly varieties, as well as new cultivars Territorial Seed Company www.territorialseed.com Specializes in wide variety of vegetable seeds You Might Also Like: How to Start Seeds Indoors 7 Easy Plants to Start from Seed Best Places to Buy Plants Online Easy to Grow Heirloom Vegetables Product Recommendations Here are some supplies and tools we find essential in our everyday work in the garden. We may receive a commission from sales referred by our links; however, we have carefully selected these products for their usefulness and quality. You Might Also Like… | Flowers & Plants Heirloom Summer Bulbs If you're looking to add some classic charm to your garden, consider growing summer bulbs like gladiolus, dahlias & lilies! See our favorite heirloom flowers that you can enjoy for years here.
15 top seed companies for home gardeners
15 top seed companies for home gardeners Disclosure: This article may contain affiliate links, meaning we may earn a small commission if readers purchase products through these links. As an Amazon Associate, we earn commission from qualifying purchases.Looking for garden seed companies that are trusted by real gardeners? These non-GMO seeds have been tested and reviewed by gardening experts and experienced home gardeners. Here's what real gardeners have to say about the best vegetable seeds, flower seeds, and herb seeds for sale online and in local garden stores. Burpee SeedsBotanical Interests SeedsHoss Garden SeedsRenee's Garden SeedsHigh Mowing SeedsEden BrothersTerritorial SeedBaker Creek Heirloom SeedsWest Coast SeedsVictory SeedsSeed Savers ExchangeJohnny's SeedsFedco SeedsRichters Herb SeedsPinetree Garden SeedsSouthern Exposure Seed Exchange Now let's find the seed company that suits you best by looking at each seed company individually. 1. Burpee Seeds Burpee Seeds is one of the oldest and most well-known seed companies in the USA. Founded in Pennsylvania in 1876, Burpee has bred some of the most famous vegetable varieties, including Burpee's Big Boy Tomato, Golden Bantam Corn, and Iceberg Lettuce. Burpee Seeds is also known for introducing reliable naturally-bred hybrid seeds and for its popularization of "Victory Gardens". Burpee Seeds are available directly on the Burpee Seeds Website, and also through their Amazon Storefront and at Home Depot. 2. Botanical Interests Botanical Interests Seeds & Garden Products offers all untreated, non-GMO seeds. Based in Colorado, they offer a wide variety of seeds packaged with beautiful illustrations, facts, and helpful tips (perfect for gift-giving). The company also supports non-profits school gardens, community gardens, and food banks that promote gardening. Find their seeds for sale on the Botanical Interests website. 3. Hoss Garden Seeds Hoss Garden Seeds is an American garden tool and seed company based in Georgia. They are known not only for their high-quality products but also for their popular "Row by Row" weekly gardening show (streaming on YouTube & Facebook). They carry reliable varieties, including a large offering of All-American Selections winning seeds. Hoss Seeds are available directly from the Hoss Premium Garden Seeds website. 4. Renee's Garden Seeds Renee's Garden Seeds is known for its beautiful seed packets and catalog of annual flowers and vegetables. Renee's Garden seeds are perfect for the home kitchen garden. They also make a beautiful gift due to their lovely packaging. Renee's Garden has taken the Safe Seed Pledge, meaning they do not sell genetically engineered seeds. For the best selection, order from Renee's Garden Seeds website. Renee's Garden seeds are also available at independent nurseries and garden centers throughout USA and Canada. Julia from Julia Dimakos, Gardening Girl says: "Easily at the top of my list for favourite seed companies, Renee's Garden has the most beautiful selection of flower seeds that I've had the pleasure of coming across!  Not only are the varieties gorgeous, but the beautiful artwork on all seed packages are a pleasure to behold!  I add sweet peas to my kitchen garden, every year.  They have a delicious smell and I love walking through my sweet pea covered garden gate, upon entering the garden.  Renee's sweet pea varieties have the sturdiest stems, perfect for bouquets, and the muskiest aromas. 5. High Mowing Seeds High Mowing Seeds are known for offering 100% certified organic seed. Their seed is widely available and is tested for germination rates, disease, and GMO contamination. High Mowing is located in Wolcott, VO, and distributes seeds across the US and Canada. As an organic seed company, High Mowing has taken The Safe Seed Pledge. High Mowing Organic Seeds can be ordered directly from High Mowing and are also sold in these brick-and-mortar locations. 6. Eden Brothers Eden Brothers specialize in hard-to-find flower seeds, herbs, and heirloom vegetable seeds. Based in Arden, NC, Eden Brothers just might be the perfect place to find that rare flower that you remember from years ago but just can't find…
11 Best Places To Buy Flower Seeds Online
11 Best Places To Buy Flower Seeds Online My Favorite Online Seed Suppliers For Your Cut Flower Farm A freshly harvested bucket of zinnias that were all started and grown from flower seeds. Are you dreaming of growing your own beautiful cut flower garden this year? Have you seen your favorite flower growers and farmers on Instagram and told yourself that you're ready to do the same? Are you ready to fill your home with fragrant and beautiful blooms all summer? If so, you may be wondering when and where to buy flower seeds? Believe it or not, but winter is actually the best time of year to purchase fresh seeds for your flower garden. If you are reading this in the spring, you may find that many seed companies have already sold out of the more popular seed varieties. Make sure you sign-up and subscribe to the email lists of these seed companies below so you know when their seeds go on sale! Seed companies often release their newest seed collections and seed catalogs in January. As gardening as grown in popularity over the past few years, the demand for quality seeds has also grown. One of the most economical ways to start a flower garden and get a head start is with fresh seeds. Buy Quality Seeds For Your Cut Flower Garden Snapdragon annual flowers all grown from seed at The Flowering Farmhouse It's important to buy quality seeds if you want to grow a beautiful flower garden. You will have higher success with your germination and also grow stronger and healthier plants in your garden when you start with premium seeds. Also, by purchasing seeds from reputable seed suppliers, you can be confident that the seeds you are planting will actually grow the correct flowers you purchased. I've heard horror stories of people ordering seeds from big box suppliers, only to find out that the seeds were incorrectly labeled. My Favorite Online Annual & Perennial Flower Seed Suppliers: Today I want to share with you my favorite seed suppliers that I personally order seeds from. While most of these seed suppliers primarily sell flower seeds, you will also find many varieties of vegetables available on these sites as well. Alright, here's my list of my favorite and best places to buy flower seed packets: Where Is The Best Place To Buy Flower Seeds? There are many places selling flower seed packets these days. It's important to purchase quality seeds that have high germination rates to get a good start on your garden. These are some of my favorite tried and true online seed companies that are located and ship within in the United States. I have personally bought and grown seeds from all of these companies and recommend each and every one of them for their fresh and quality seed collections. Baker Creek Heirloom Seeds Baker Creek offers heirloom vegetables and flower seeds for sale on their website. Founded in 1998 as a hobby, Baker Creek Heirloom Seeds has grown into one of North America's largest heirloom seed companies. You will find many unique seed varieties along with free shipping and depending upon your order size, even free seeds! Botanical Interests Botanical Interests seed company has been selling high quality flower and vegetable seeds since 1995. They offer a wide selection and even offer mixed seed collections for various growing conditions. I personally love their…